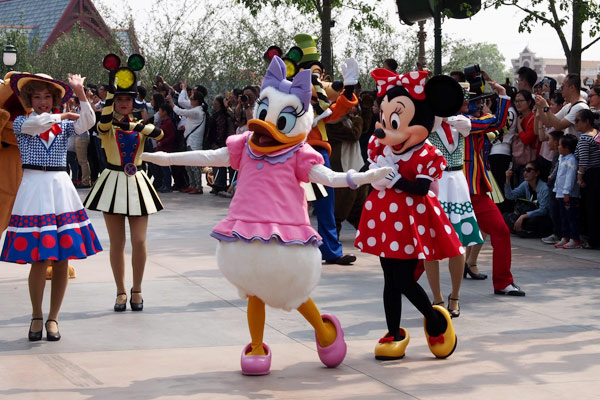 Shanghai Disneyland holds a parade for visitors on Wednesday during a trial run before the amusement park opens to the general public on June 16.[Photo/Xinhua]
Visitors can't take the souvenir balloons they purchased at Shanghai Disneyland on the metro train when they leave-that's one of the bugs discovered during the trial run of the 389.7-hectare park.
Shanghai Disneyland, Walt Disney Co's sixth theme park and its first on the Chinese mainland, has been open to employees, partners and stakeholders since Sunday to iron out the kinks.
And there have been complaints, including insufficient communication between the metro authority and the park, high food prices, and security checks regarded as too tight at the metro line linking the city and park.
Visitors had to discard their 60 yuan ($9) Mickey Mouse-or other-souvenir balloons before they could board the subway leaving the park.
Metro security staff members said the balloons, especially the hydrogen-filled ones, could cause explosions and disrupt the operation of the trains.
"Some passengers argued when we didn't let them take their Disney-themed balloons into the station, but we don't have any choice. The store should warn customers when they buy them," said a metro station policeman who declined to give his name.
Shanghai's Disney Resort Metro Station requires passengers to have all of their bags and even purses scanned before they can board the train.
At other city metro stations, only large luggage and bags are scanned.
"We've been told by the city's Public Security Bureau to scan all bags," the police officer said.
He also said that the heightened security has raised the risk of theft as crowds gather at the checkpoint with their bags.
Another complaint during the trial run has been about high food costs. Most dinners cost at least 70 yuan, for a main course and beverage, and they look nothing like their beautiful photos representations at the park.
"Dining and accommodation prices are almost the same as at other Disney theme parks, but our incomes can't compare with those in developed countries like the US and Japan," said Sunny Sun, a Shanghai resident who visited Shanghai Disney Resort with her family.
Shanghai Disney Resort said nearly everyone told them they "had an excellent experience" at the theme park.