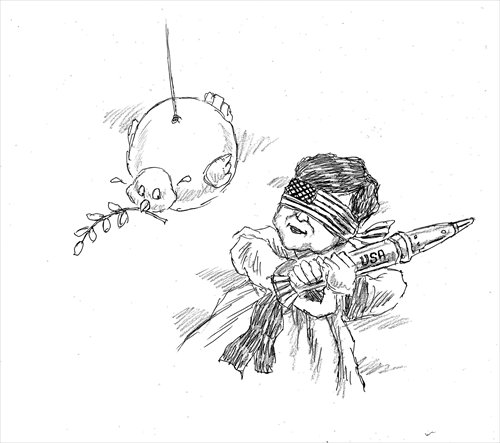 Illustration: Peter C. Espina/GT
US President Barack Obama said Sunday that the US has "cultivated cooperation" with China to put more pressure on North Korea. He criticized Pyongyang is engaging in continuous provocative behavior.
Pyongyang fired ballistic missile from a submarine off its east coast on Saturday. Seoul said the missile flew for about 30 kilometers, far below the minimum 300-kilometer range of missile of this kind, but Pyongyang called the firing "another great success." The test has shocked many, and a slew of recent tests by North Korea show that the country has been enhancing its strategic attack capabilities.
Later, North Korean Foreign Minister Ri Su-yong said in a rare interview with The Associated Press that his country would halt nuclear tests after the US and South Korea stop their annual military exercises.
This is not the first time that Pyongyang makes such offer and it is immediately rejected and denounced by Seoul. But North Korea's suspension offer is taken by many as a softened gesture that is better than its normal threats of wiping out Seoul from the map and waging a nuclear war with the US.
North Korea apparently adopts a double-dealing approach to deal with pressure from the US and South Korea, but its nuclear activities have steered the Korean Peninsula into a stalemate unseen since the truce in 1953. It's hard to discern whether the US pressure led to North Korea's nuclear activities or the other way around. But the reality is that the vicious cycle is gaining speed and momentum, and real danger is looming.
The peninsula urgently needs opportunities to stop the situation from exacerbating, and threatening and intimidating may turn into reality upon mutual stimulus. If parties involved don't want to see the worst scenario happening, they shouldn't waste any possibility that can restore stability and avoid escalating tensions.
Pyongyang intends to push Washington and Seoul hard so that the latter will surrender, which is however unrealistic. Actually North Korea's four nuclear tests have given rise to the harshest ever sanctions and largest joint exercises of US and South Korean army. A fifth nuclear test, if any, is unlikely to make the US and South Korea back off. Pyongyang has to be aware that China can hardly give it any help if the UN Security Council mulls harsher sanctions on it.
From another perspective, Washington and Seoul have already prompted Pyongyang to turn inward by imposing sanctions and wielding the baton of military exercise. If they just want to bluff instead of real actions, what other measures are there in their hands to deal with Pyongyang?
The US and South Korea appear to be willing to set China and North Korea against each other so that China will be entirely accountable for addressing the nuclear issue, which has really been the result of the US policy on North Korea. Washington and Seoul need to be aware that Beijing will only impose sanctions on curbing Pyongyang's research and development of nuclear weapons and not join any party to strangle the North Korea country or regime.
Chinese are deeply concerned about tensions flaring up in the peninsula and worried that no underlying solution can be found to the issue while the wiggle room is running out. This is a sound mentality of a responsible power.
That said, China won't be among the countries that are hit first and hardest if the situation in the peninsula goes out of control. If Washington, Seoul and Pyongyang insist on acting as they are now, Beijing is unlikely to come up with any countermeasures or take responsibility for any of their irresponsible behaviors.
Tensions in the peninsula have led to some strategic trends that may jeopardize China's national interests, such as the possible deployment of the Terminal High-Altitude Area Defense system by the US in South Korea. However, China's capabilities and determination to take countermeasures can never be underestimated. The relevant parties have to take into account the interests of others rather than only their selfish gains. Otherwise, they may end up paying heavy costs.
The article is an editorial of the Chinese edition of the Global Times on Monday. [email protected]