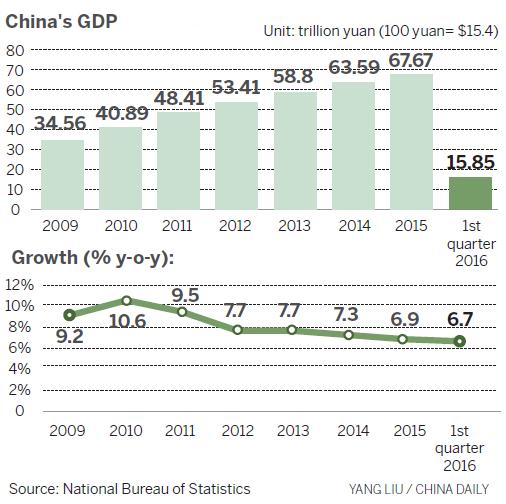 Great opportunities still exist for further economic expansion if the government pushes ahead with the right reform agenda
Editor's Note: Economists attending a recent forum organized by the Institute of World Economics and Politics of the Chinese Academy of Social Sciences in Beijing argued that if the government can successfully manage reforms, it is highly likely that China can further release its growth potential to become a high-income economy.
China's economic growth gradually dropped to 6.9 percent year-on-year in 2015 from 10.6 percent in 2010, sparking concerns that its high-rate growth may have come to an end. Pessimists even started to doubt whether China could avoid the so-called middle-income trap.
Economists attending a recent economics forum in Beijing argued, however, that if it can successfully manage its reform agenda, it is highly likely that China can overcome the trap.
The middle income trap refers to a situation in which an economy is hampered by high wages and the loss of its competitive edge and, therefore, is unable to continue to expand beyond what the World Bank defines as the "middle-income range".
In 1960, 101 countries were defined as middle-income economies by the World Bank, and only 13 of those had become high-income countries by 2008.
China's per capita GDP has reached $8,000 and whether it can further release its growth potential to become a high-income economy has been a hot topic among academics.
Economists participating in a forum organized by the Institute of World Economics and Politics of the Chinese Academy of Social Sciences from April 13 to 14 said China must narrow income inequality and carry out its reform agenda if it wants to avoid falling into the trap.
A country that has fallen into such a trap is likely to suffer from two major problems: significant income inequality and bad macroeconomic management, said Wang Xiaolu, an economist with the National Economic Research Institute.
Most Latin American countries, for example, experienced hyperinflation from the 1970s to 1990s, which did not occur in East Asian economies, leading to diversified performances of the two groups of economies, he said.
"High income inequality causes social conflict and political instability, while hyperinflation and macroeconomic instability damage the business environment," he said. "Both result in economic stagnation."
Naoyuki Yoshino, dean of the Asian Development Bank Institute, said China should closely monitor the issue of income inequality and use its tax system to narrow the gap.
He also urged the government to pay attention to State-owned enterprises that are losing money because their deficits will strain local governments and the banking sector, ultimately affecting the overall health of the economy. He also said China should have its currency pegged to a basket of currencies to maintain a stable exchange rate.
"If it can well manage the above-mentioned tasks, China will manage to go into a steady growth track," he said.
China still has a lot of growth to realize, said Justin Yifu Lin, an economist at Peking University and a former World Bank economist. China has the ability to expand its economy through urbanization, increasing infrastructure investment, industrial upgrades, improving environmental protections and pressing ahead with economic reforms, such as reform of the hukou, or household registration system, and expanding coverage of social services, Lin said.
"China is likely to achieve the growth target of 6.5 percent and above in the 13th Five-Year Plan period (2016-20) and beyond," he said.
Mingwang Cheng, an economist at the School of Economics and Management at Shanghai-based Tongji University, said that although China may have lost its competitive edge in cheap labor, "the reform of the system, the perfection of the market and the bonus of the human capital promotion still exist", leading to great opportunities for economic expansion.
China has become more innovative and it has more than 100 Global Fortune 500 enterprises, laying a solid foundation for its economy to continue to expand, said Keun Lee, an economist at Seoul National University.
It is reassuring that the Gini coefficient, which gauges wealth inequality, has started to decline, he said, predicting that China will successfully overcome the middle-income trap.