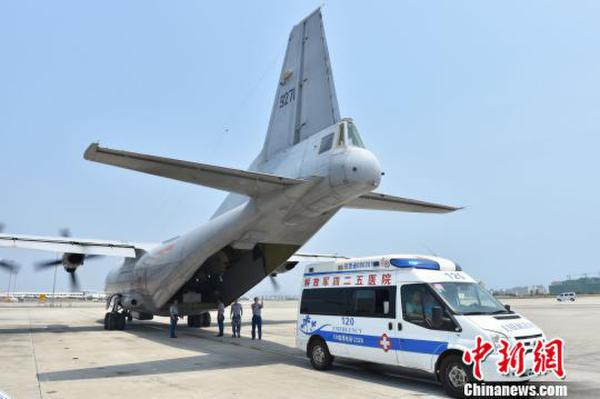 A ‪Chinese‬ Naval patrol aircraft was sent to rescue 3 construction workers in serious illness at ‪Nansha‬ islands in the South China Sea after the Nansha islands construction team reported an emergency to the Chinese Navy on April 17, 2016.
BEIJING, April 20 -- China's sending a military plane to transport sick workers from a reef in the South China Sea is lawful and rational.
A Chinese navy patrol plane on Sunday picked up three seriously sick workers on Yongshu Jiao and transported them to Sanya, Hainan Province, in South China.
But the humanitarian move gave rise to dissatisfaction from Washington, which questioned China's purpose behind using a military aircraft instead of a civilian one to evacuate the workers.
In fact, Washington's suspicion is needless and baseless.
First, dispatching a military plane to transport the workers from Yongshu Jiao does not violate international law.
China has indisputable sovereignty over the Nansha Islands and its surrounding waters. It is lawful for a Chinese plane to fly in China's own airspace and the United States has no right to criticize such a move.
Not to mention the participation of military planes in disaster relief, humanitarian assistance and evacuation of civilians is a common practice around the world.
Second, facing the heavily sick workers, the top priority is to save their lives instead of focusing on which type of planes was used.
On Sunday morning, Li Wanmei, one of the three workers, who suffered acute gastrointestinal bleeding, was in a state of hemorrhagic shock and severe anemia. Li urgently needed a blood transfusion, a condition which the reef cannot offer.
Considering using ships will take a longer time and could worsen Li's illness, the Chinese Navy ordered a Y-8 navy patrol plane to fly to Yongshu Jiao and transport the patients.
Under such circumstances, U.S. questioning whether a military or a civilian plane should be the choice for China seems irrational and merciless.
"Serving the people whole-heartedly is the mission of the People's Liberation Army (PLA). Rescuing the people in danger is a fine tradition of the PLA," the China's Defense Ministry said in a statement.
Third, the landing of a Chinese military plane on Yongshu Jiao demonstrated that China's construction of South China Sea islands and reefs is conducive to better carrying out humanitarian rescue tasks.
With a complicated situation in the South China Sea and the great amount of fishing and merchant ships in one of the world's busiest waterways, Chinese ships and planes, in case of emergency disasters, can use facilities on South China Sea islands and reefs to offer rescue efforts.
In fact, Washington's overreaction to a common rescue operation by a Chinese military plane is due to its mentality of militarizing the South China Sea issue. It has repeatedly sent military ships and planes to what they described as efforts to maintain freedom of navigation in the South China Sea.
To conclude, escalating the situation in the South China Sea will do no good to any party in the Asia-Pacific. It is advisable that Washington stop finger-pointing and take real actions to safeguard regional peace and stability.