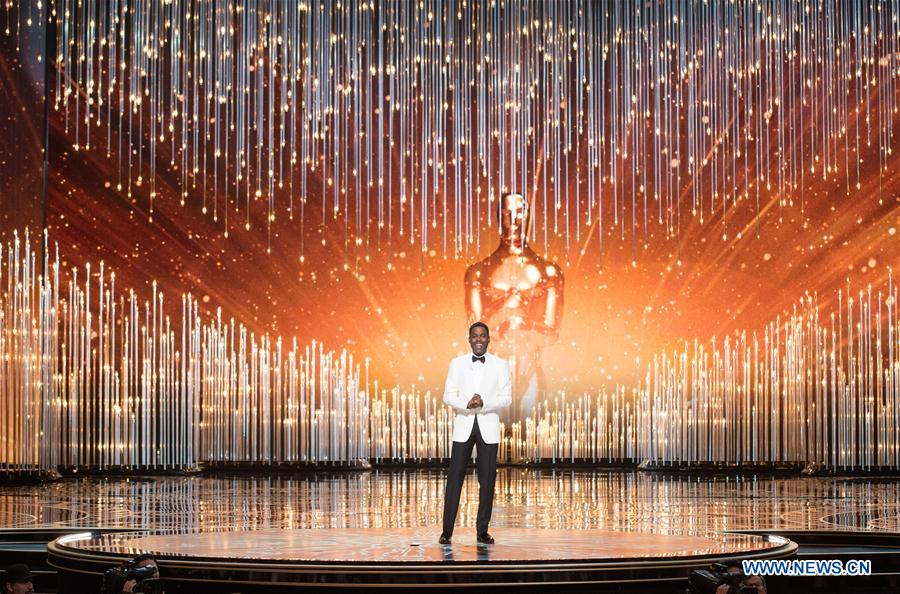 Chris Rock hosts the awarding ceremony of the 88th Academy Awards at the Dolby Theater in Los Angeles, the United States, on Feb. 28, 2016. (Xinhua/Aaron Poole)
LOS ANGELES, Feb. 29 -- At the 88th Oscars Awards Ceremony held Sunday night here at Hollywood's Dolby Theatre, Academy President Cheryl Boone Isaacs vowed to take action to add diversity to the Hollywood film industry.
"The Oscars celebrate the storytellers who have the opportunity to work in a powerful medium of film, and with that opportunity comes responsibility. Our audiences are global and rich in diversity. And every facet of our industry should be as well," Isaacs said in her speech.
"The Academy Board of Governors recently took concrete actions and sent a message that inclusion only serves to make us all strong and it is important that the members of the Academy, everyone in this room, help to deliver that message... We must take action," Isaacs said.
On Sunday afternoon, just a couple of hours before the ceremony was held, dozens of protesters rallied at a location not far away from the Dolby Theatre, calling for diversity in the entertainment industry since it revealed the all-white nominees list in January.
Minorities "remain under-represented on every front," including film directors, film writers, motion picture and TV performers, and show creators, according to a study of the University of California, Los Angeles (UCLA) released early February.
The Academy Awards have long been criticized as "white-dominated," though the Academy of Motion Picture Arts and Sciences announced a series of changes to its voting and membership procedures aiming to double its female and "diverse" membership by 2020.
This year's awards ceremony was hosted by black actor Chris Rock and many presenters were minorities.
At the ceremony, 41-year-old Leonardo DiCaprio finally took home his first Oscar statuette for his role in "The Revenant," nearly two decades after his first nomination for "What's Eating Gilbert Grape" at age 19. He has been nominated as the best actor in a leading role five times, including this year.
An ABC News online report said that "To play an 1820s fur trapper, DiCaprio endured subzero temperatures, sat in makeup for five hours to get 47 different prosthetics, shot an intricate stunt sequence involving a bear attack during a torrential rainstorm, ate raw bison liver and lived with a long, scraggly beard for a year and a half. No other best actor nominee can say that."
"Revenant" director Alejandro Gonzalez Inarritu, who has got four Oscar statuettes so far, also gave credits to DiCaprio in his awards acceptance speech. Meanwhile, as a committed environmentalist, DiCaprio called for more joint actions against climate change in his speech.
Tom McCarthy's drama "Spotlight," which is about a sexual abuse scandal in the Catholic Church, won the award for Best Picture, and U.S. Vice President Joe Biden was also at the ceremony, asking people to join the campaign against sexual abuse.
The Hungarian film "Son of Saul," from first-time feature director Laszlo Nemes, became the second straight Holocaust drama to win the award for Foreign Language Film. The Polish film "Ida" won the Oscar in the same category in 2015.
Mexican director Inarritu won the award for Best Director the second year in a row, and became the third director who has ever achieved this.
The 26-year-old American actress Brie Larson won the award for Best Actress for starring as a kidnapped woman in the drama "Room."
The 56-year-old British actor Mark Rylance and 27-year-old Swedish actress Alicia Vikander won the Oscar awards for Best Supporting Actor and Actress respectively.
Rylance plays a Soviet spy in Steven Spielberg's cold war thriller "Bridge of Spies," and Vikander won the award for her role in Tom Hooper's transgender drama "The Danish Girl."
The most awarded drama was "Mad Max: Fury Road," which got six awards for Costume Design, Production Design, Makeup and Hairstyling, Film Editing, Sound Editing and Sound Mixing.