Abducted Seeing-eye Dog Qiaoqiao Returns Home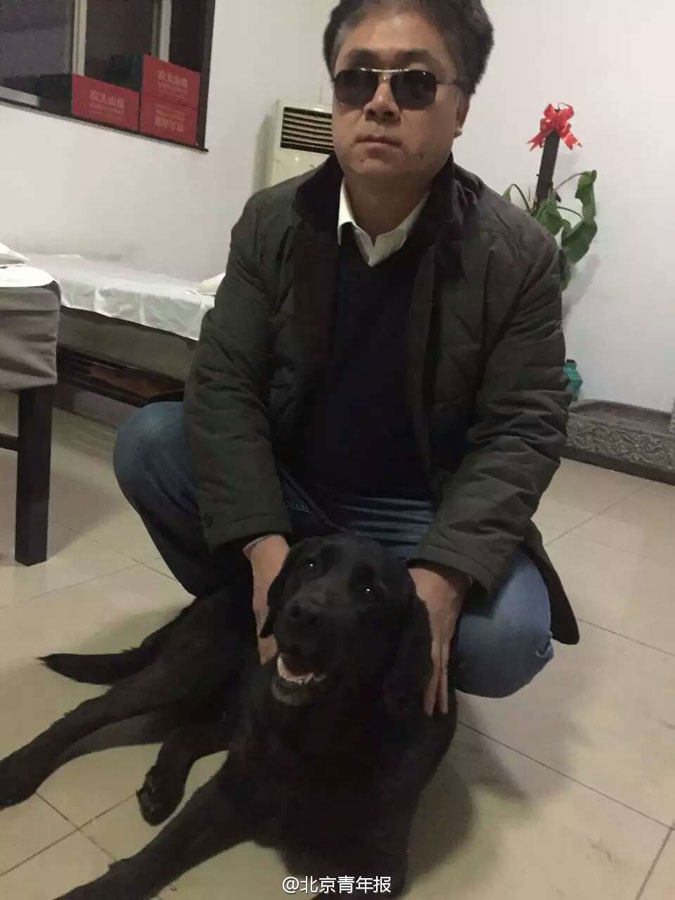 The photo shows the missing eye-seeing dog Qiaoqiao reunites with its owner on February 23, 2016 in Beijing. [Photo: Weibo.com]
The missing seeing-eye dog Qiaoqiao, which was abducted on Monday afternoon, has finally been returned to its owner.
The dog ran back to its home on 6.50 p.m. today with a plastic bag on its neck.
Suspects who abducted Qiaoqiao put a letter in the plastic bag, saying "We were wrong, and we really beg your pardon".
Seven years old Qiaoqiao has lived with a blind masseur surnamed Tian for five years and has become part of the family.
Tian told reporters the black labrador was taken from in front of his massage parlour. Several people jumped out of a minibus and forced the dog into the vehicle and then drove away. Employees of the massage business tried to stop the abduction but failed.
Qiaoqiao graduated from the China Guide Dog Training Center in Dalian, northeast China's Liaoning Province. The center, founded in 2005, is the first non-profit seeing-eye dog training institution in China.
Statistics show that at least 12 million people in China are visually impaired. However, it is estimated that only 70 seeing-eye dogs are currently working with blind people in the country.
【1】
【2】
(Editor:Kong Defang,Bianji)
Related reading