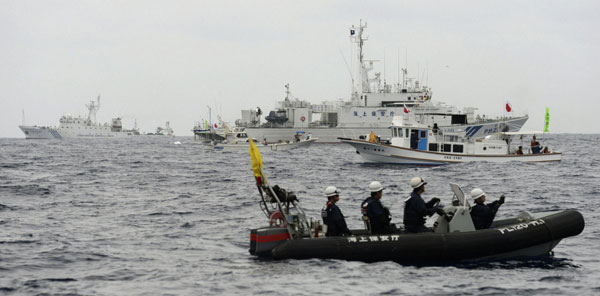 Chinese marine surveillance ship Haijian No. 46 (L) tries to approach towards Japanese fishing boats (2nd and 3rd from front) while a Japan Coast Guard boat sails (front), in the East China Sea, near Diaoyu islands, in this photo taken by Kyodo May 26, 2013. [Photo/Agencies]
Beijing urges Washington to "be cautious in words and actions in regard to the Diaoyu Islands issue", the Ministry of National Defense said on Friday, a stern warning over recent remarks by a top United States Navy official.
Harry Harris, commander of the US Pacific Command, spoke about Chinese territory in the East China Sea on Wednesday at a Washington think tank event.
Referring to the islands, Harris said: "We will clearly defend them if they are attacked by China," Japan's Kyodo News Agency reported. In a written reply to China Daily on Friday, the Chinese ministry said: "China has taken notice of the relevant report," adding that the Chinese military's determination to safeguard regional peace and stability is "unswerving".
It is hoped the US side will "take tangible efforts in safeguarding the peace and stability in the region as well as the big picture of China-US relations", the ministry said.
Ruan Zongze, vice-president of the China Institute of International Studies, noted that US President Barack Obama promised over two years ago to honor US treaty obligations in defending the islands.
Ruan called Harris' remarks aimed at encouraging Japan to be bold in its military actions there.
"As Washington attempts to make Tokyo part of its so-called patrols in the South China Sea, it has to make an additional offer, some more defense commitments, in exchange," Ruan said.
Harris is actually encouraging Japan's self-defense forces to play a bigger role and boost its equipment, Ruan added.
Teng Jianqun, a senior expert on US studies at the CIIS, said Washington's outspoken remarks and its security commitments made to treaty allies in Asia "often go further than its actions", leading to a drastic mismatch.
Although it seems embarrassing to have such mismatches, it is unlikely Washington will break away from such a pattern, Teng said.
In addition to his comments on the East China Sea, Harris also drew Beijing's criticism for his comments on the South China Sea situation when speaking at the Center for Strategic and International Studies on Wednesday.
Harris said the US will continue to challenge China's position on the South China Sea. He also said his personal view is that "those islands do not belong to China".
On Thursday night, Yang Yujun, the ministry's spokesman, said: "Such remarks astonish me as they completely lack historical common sense."
Peace and stability in the South China Sea should be safeguarded by China and the ASEAN countries, and, "We do not need countries outside the region finger-pointing on this issue, let alone making any ignorant remarks," Yang said.