Comments by Xu Xiujun, associate researcher with the Institute of World Economy and Politics at the Chinese Academy of Social Sciences; comics drawn by Wang Dongjie.
On December 1, Chinese President Xi Jinping arrived in Harare for a state visit to Zimbabwe at the invitation of President Robert Mugabe.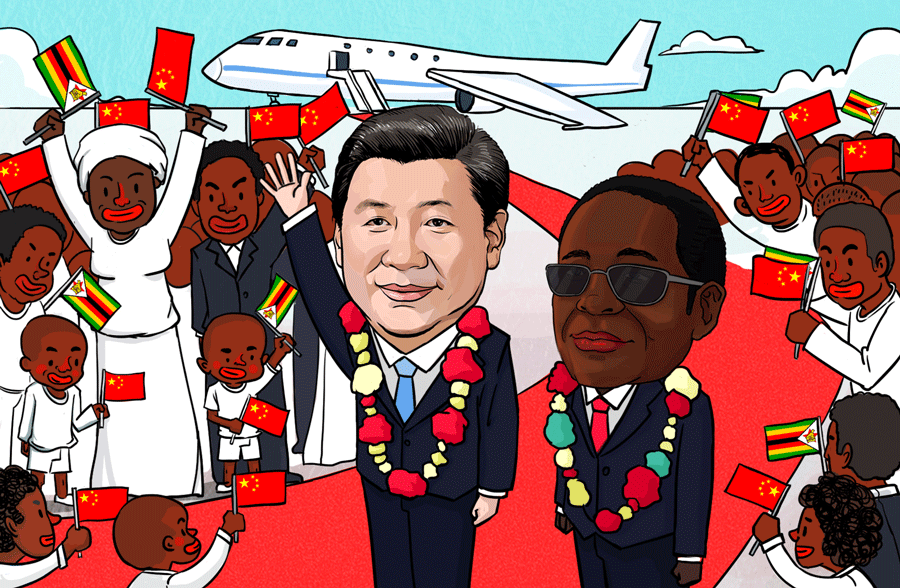 Xi and his wife Peng Liyuan were warmly welcomed by Mugabe and his wife Grace Mugabe, two vice presidents and foreign ministers at the airport.
With enthusiastic people singing and dancing, surrounded by local children carrying garlands and bouquets, Chinese guests felt much appreciation to arrive at the hot and shining continent.
Xi's visit is a major event in the history of Sino-African relations and a new milestone for China-Zimbabwe relations.
Xi held talks with Mugabe to discuss the traditional friendship between the nations, seeking pragmatic cooperation in various fields, and deepening the bilateral partnership of mutual benefits and common development.
Fostering a new future of China-Zimbabwe friendship is the main theme of Xi's visit.
For years, the consolidation of Sino-African relations has been the cornerstone of China's diplomacy; never forgetting African brothers reflects the Chinese people's faith over never forgetting about its past sufferings.
Meanwhile, Zimbabwe has put forward the policy of Look East since 2002, which stands in conformity with China's policy towards Africa.
President Xi's visit would promote bilateral friendship, cooperation opportunities, and usher in more benefits to peoples of the two states.
It also seeks more political mutual understanding and support, closely intersecting with development strategy, while strengthening cultural exchanges.
Xi's visit can boost the Chinese Dream and Zimbabwe's dream for corresponding national revivals. The bilateral friendship would enjoy an even brighter future.