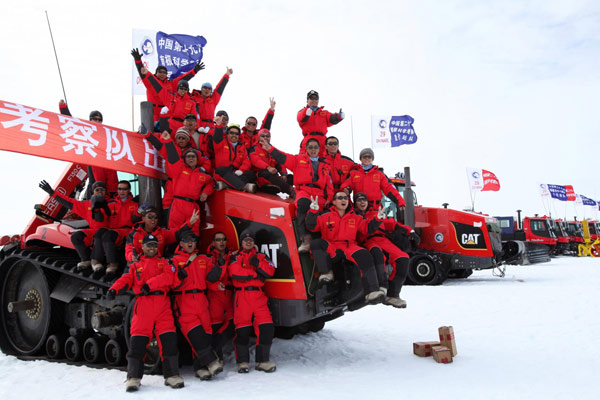 A Chinese expedition team prepares to depart from the Zhongshan Research Station for the Kunlun Research Station, China's closest station to the South Pole in Antarctica, on Dec 16, 2012. [Photo/Xinhua]
The food cooked by chefs at China's Antarctic research stations was so delicious that foreign researchers often stopped by to try their Chinese counterparts' meals, according to a report by Hubei Daily.
The team of Chinese chefs was composed of culinary professors and students from Wuhan Business School in Central China's Hubei province, the sixth year in a row they undertook the task.
"The food provided for the Antarctic stations focuses on the balance between variation of color and nutrition," said Wang Huiya, vice president of the School of Cooking and Food Engineering at Wuhan Business School.
Wang was in charge of catering services at the Great Wall Station during China's Antarctic expedition six years ago.
The professors suggested establishing soilless-cultivated vegetable bases, and now, researchers are able to eat fresh herbs such as caraway and vegetables such as bok choy, green pepper and tomato.
Since then, their menus have often attracted foreign researchers to come by for a meal.
The food was so good that some of the Chinese explorers joked that they did not miss home any more.
"People always asked me, 'What's for lunch, and what's for dinner?'", said Dai Tao, a 43-year-old professor at Wuhan Business School who served in China's 26th Antarctic expedition six years ago.
Transportation means food taken to the Antarctic is usually frozen, not fresh.
Dai said it's not easy to satisfy researchers with frozen supplies. He tries different ways of cooking, such as stewing, roasting, frying, steaming, and braising.
The spiced beef, roasted mutton, and peppery chicken Dai cooked were popular among the researchers.
【1】
【2】