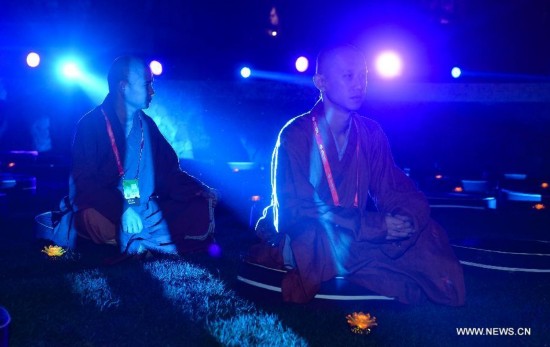 Monks participate in an activity with the theme of "meditation at present" during the Fourth World Buddhist Forum in Wuxi, east China's Jiangsu Province, Oct. 24, 2015. (Xinhua/Ji Chunpeng)
NANJING, Oct. 24 (Xinhua) -- Master Xuecheng, president of the Buddhist Association of China, on Saturday urged buddhists across the world to promote communication between different civilizations.
Speaking at the fourth World Buddhist Forum in Wuxi city, Jiangsu Province, Master Xuecheng said buddhists should contribute their wisdom to solving problems that are common to the development of human society.
【1】
【2】
【3】
【4】
【5】
【6】
【7】
【8】
【9】
【10】
【11】
【12】