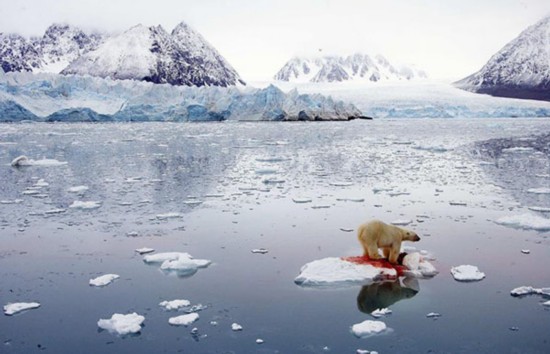 A polar bear is pictured at the Svalbard Islands in northern Norway in this 2006 file photo. (Photo/Xinhua)
Stronger cooperation sought with Washington; climate change key item on Xi's state visit to US
China and the United States should strengthen cooperation on technology transfers to cope with global warming, China's special representative on climate change issues said on Friday.
China will also offer more financial support to other developing countries, as promised, to cope with climate change, Xie Zhenhua told a delegation of US environmental experts in Beijing.
Xie said he has met with his US counterparts many times this year as preparation for President Xi Jinping's first state visit to the US late this month.
"Climate change will be an important item on the agenda of President Xi's visit to the US, and a lot of positive achievements can be expected," he said, without giving details.
Beijing's climate change partnership with Washington can be further boosted by jointly launching pilot programs in areas such as carbon capture and storage technology, he said. The aim is to help the implementation of such green technologies and to bring economic returns, he added.
Xie stressed that close cooperation between developed and developing countries will be crucial for the global community to meet its medium-and long-term goals in cutting carbon emissions.
"There is no disagreement on the need for green technology innovation or that we should cooperate on green technology, but difficulties and disagreements remain on technology transfers," Xie said.
Developed countries should transfer practical - not necessarily cutting-edge - technology to less developed ones to help them reduce carbon emissions, he said.
On Tuesday and Wednesday, government officials from 10 Chinese cities and Sichuan province along with representatives from energy companies and think tanks will attend a climate-smart and low-carbon cities summit in Los Angeles.
They will share experiences with US cities on how to reach a carbon emissions peak by 2030 or earlier if possible.
Under a joint announcement released by the leaders of China and the US last year, the US would cut emissions by more than a quarter between 2005 and 2025.
The global community sees the Sino-US announcement on greenhouse gas emissions as providing a significant impetus for the United Nations climate change talks in Paris in December.
Zou Ji, deputy director-general of the National Center for Climate Change Strategy and International Cooperation of China, said financing for global carbon reductions will be the most challenging aspect for the Paris conference.
Whether developed countries can meet their commitment to transfer $100 billion a year to help developing nations reduce carbon dioxide emissions by 2020 remains a problem, he said.