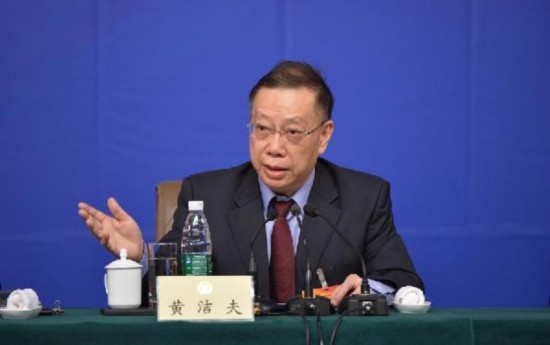 Huang Jiefu, head of the country's human organ donation and transplant committee, speaks at a press conference on the sidelines of the annual session of the National Committee of the Chinese People's Political Consultative Conference (CPPCC) in Beijing, March 11, 2015. [Photo/Xinhua]
China published its first national guideline on organ donation Saturday, aimed at raising the public's awareness and understanding of the cause.
The guideline expounds the country's principles and polices in the field, including ethics, standards to judge death and standards on extraction and distribution of organs.
It was made public at a meeting of the national alliance of organ procurement organizations held in Guangzhou, capital of south China's Guangdong Province.
"We hope the guideline would help eliminate the public's misunderstanding and bias of donating their organs after death, and get their support," said Huang Jiefu, head of a national human organ donation and transplant committee and chief editor of the guideline.
Despite an acute shortage of organs for transplants, China has banned the use of prisoners' organs for the purpose starting 2015, making citizen donation the only legitimate channel.
The country began a voluntary organ donation trial in 2010 and promoted the practice across the country in 2013. Now, it topped Asia in the number of organ donations.
As of Aug. 19 this year, China has seen 4,737 voluntary organ donations, with 12,748 large organs acquired. This year has recorded 1,590 donations.