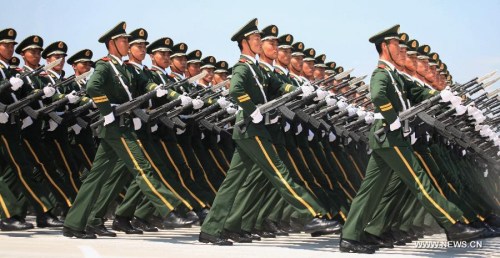 Soldiers take part in a training for a military parade in Beijing, capital of China, July 23, 2015. China will hold a grand military parade on Sept. 3 to mark the 70th anniversary of the victory of the Chinese People's War of Resistance Against Japanese Aggressions and the World Anti-Fascist War. (Xinhua/Tian Feng)
China's strategic missile force, the Second Artillery Forces (SAC) will display seven types of missiles in the military parade on Sept. 3, Xinhua learned from military sources.
Organized into six armament formations, the weaponry includes long-range, intermediate-range, and short-range missiles as well as conventional and nuclear missiles, said the source.
The source did not reveal the specific types of missiles, but said "the scale and number of the missiles will surpass any previous outing."
"Our missile weaponry has seen great advances, in terms of firing range, strike methods, accuracy and mobility," said the source.
A senior military official said Friday that 84 percent of armaments to be displayed in the military parade have never been viewed by the public before.
The SAC made its first public appearance on Oct. 1, 1984, when the new China celebrated the 35th anniversary of its founding. After that, it has been a popular section of every military parade.
During the National Day parade in 2009, China showcased five types of missiles, including DF31A, a long-range intercontinental ballistic missile.