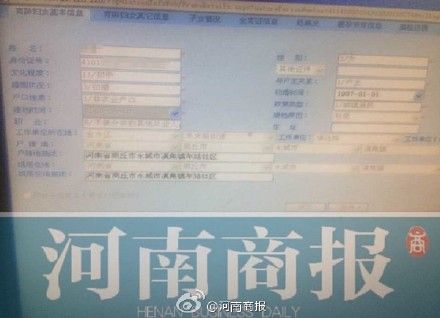 A file photo of the erroneous data in computer records.
A 37-year-old pregnant woman surnamed Li from Zhengzhou in central China's Henan province was told of having a baby when she was just 10 years old due to an error in computer records.
The shocking data came to light on August 6, when Li went to her local neighborhood committee to obtain the birth-giving certificate, which is a standard practice in China and a way to enforce its strict family planning laws.
Li is now into her 8th month in her pregnancy and her baby is due very soon.
She had prepared all the other documents before approaching the neighborhood committee for the certificate.
But to her surprise, the information system at the centre had an absurd record, showing that she had got married at the very young age of 9 and had her first child one year later, while her then husband was only 8 years old.
In addition, Li was born in Zhengzhou while the data showed her permanent residence was registered in Shangqiu, the eastern part of Henan province.
Adding insult to injury, staff at the neighborhood committee kept on insisting that the erroneous information must be due to Li's own mistake and that she had to sort it out herself.
Li was very anxious and made several calls to relevant departments in Shangqiu. Finally someone answered her 10th call, but claiming they were off-duty.
Authorities in Henan say they are looking into the matter and an answer is expected by Friday.