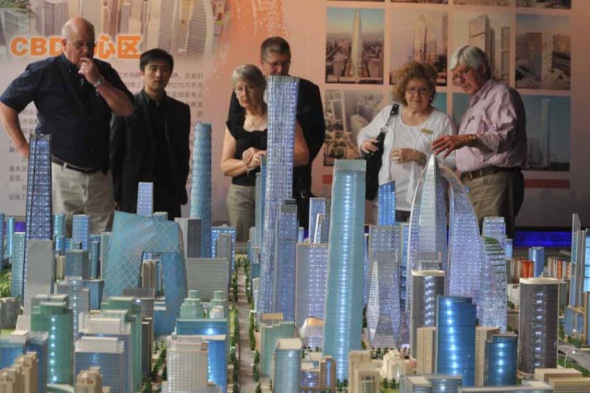 Foreigners look at real estate project models at a central business district (CBD) in Beijing. (File photo)
Expats who want to buy homes in Beijing can now file identity certification materials online instead of the previously required paper versions, the municipal housing authority said on Wednesday.
The Beijing municipal commission of housing and urban-rural development and the city's public security bureau have jointly issued a notice regulating home purchases by foreign individuals, which took effect on June 1.
Government departments will complete reviews of submitted applications within 10 working days.
After final approval, the housing commission will investigate each housing property. Qualified foreigners will then go through an online signing procedure.
If a foreigner disagrees with the review results, he or she can make an appeal to the housing commission.
Officials from the commission said the latest move aims to streamline procedures, but that qualification requirements for expats remain unchanged.
According to Beijing's existing policy, expats who have lived and worked in Beijing for a year or more can buy homes for their own use, while foreign institutions can only buy offices in cities where they are registered.