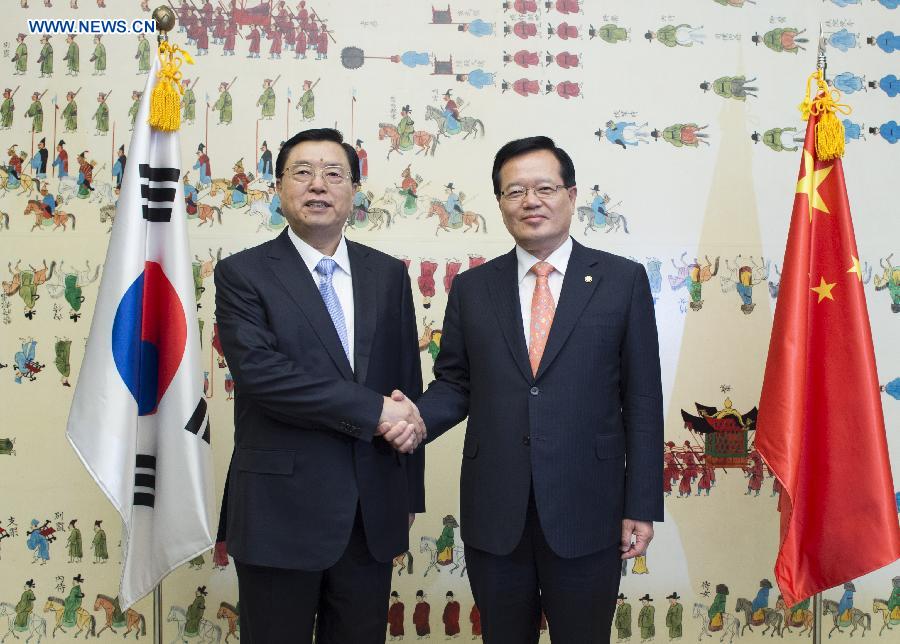 Zhang Dejiang(L), chairman of the Standing Committee of China's National People's Congress, shakes hands with South Korea's Speaker of the National Assembly Chung Ui-hwa, in Seoul, South Korea, June 11, 2015. (Xinhua/Xie Huanchi)
SEOUL, June 13 -- China and South Korea, on the occasion of top Chinese legislator Zhang Dejiang's ongoing visit to South Korea, have pledged to lift the strategic cooperative partnership between the two countries to a new high through concerted efforts by both sides.
Zhang is currently on an official good-will visit to South Korea from Thursday to Saturday, which marks his first visit to the country since he took office in 2013.
During the visit, Zhang has met with South Korean President Park Geun-hye, Speaker of the National Assembly Chung Ui-hwa and key political party leaders, with both sides pledging to further expand the all-round practical cooperation between their two countries.
ALL-ROUND PRACTICAL COOPERATION
China-South Korea relations are currently at an all-time high as leaders of the two countries have made a successful exchange of visits and reached important consensus, said Zhang, chairman of the Standing Committee of the National People's Congress (NPC), when meeting with Park on Thursday.
The two countries have enhanced political trust, increased trade and economic cooperation and deepened people-to-people exchanges between them, he said, adding that in 2014, the two-way trade reached nearly 300 billion U.S. dollars and the number of mutual visits between the two countries exceeded 10 million.
The China-South Korea free trade agreement (FTA) officially signed on June 1 will also usher in broader prospects for bilateral cooperation, Zhang said.
He said China is ready to make joint efforts with South Korea to step up friendly exchanges at all levels, coordinate macroeconomic polices and development strategies, and push forward all-round practical cooperation.
China is also willing to work with South Korea to realize common development, maintain regional peace, reinvigorate Asia and strive for a more prosperous world, and lift the China-South Korea strategic cooperative partnership to a new high, Zhang said.
For her part, Park said that the signing of the FTA, which laid the ground for future development, is a catalyst for deepening bilateral trade and economic cooperation.
The South Korean side will continue to expand cooperation with China in all areas, boost the strategic cooperative partnership to higher levels and promote peace and stability in Northeast Asia, she said.
PARLIAMENTARY EXCHANGES
Zhang also met with Chung on parliamentary exchanges and cooperation on Thursday.
Zhang said China's NPC and South Korea's National Assembly have continuously upgraded the level of cooperation, deepened friendship and enhanced mutual trust through interaction at various levels.
The two sides regularly exchange experience in the rule of law, economic construction and the improvement of people's livelihood. They have also speeded up the approval of legal documents on bilateral cooperation, to provide legal guarantee for promoting bilateral economic and trade cooperation, and to consolidate the social and public opinion basis for cooperation herein, he said.
This year marks the 70th anniversary of the victory by the Chinese People in the War of Resistance against Japanese Aggression as well as the 70th anniversary of the liberation of the Korean Peninsula from Japan's colonial rule, Zhang said, calling on the two countries to strengthen mutual support and commemorate these events together so as to remember history, look forward to the future, and maintain peace and stability.
For his part, Chung said that South Korea admires the great achievements China has made in its development.
Totally agreeing with Zhang's proposal for advancing cooperation between the legislative bodies of the two countries, Chung said both sides should expand exchanges, raise cooperation quality, strengthen friendly contact between lawmakers based on mutual understanding in order to make contributions to the development of bilateral ties.
PARTY-TO-PARTY INTERACTION
During the visit, the top Chinese legislator also met with Kim Moo-sung, chairman of the New Frontier Party, and Moon Jae-in, chief of the New Politics Alliance for Democracy, on party-to-party exchanges.
Zhang said that the Communist Party of China (CPC) is willing to conduct various forms of exchanges and cooperation with major political parties in South Korea and play a key role in advancing understanding, promoting mutually beneficial cooperation and invigorating people-to-people exchanges.
The two South Korean political party leaders said that both the New Frontier Party and the New Politics Alliance for Democracy are ready to beef up party-to-party cooperation with the CPC so as to cement friendship between the two countries and bring more benefits to both peoples.
【1】
【2】
【3】
【4】
【5】
【6】
【7】