Heiqiao's small artistic community fights against hiking rental prices amid fears that there are plans to redevelop the area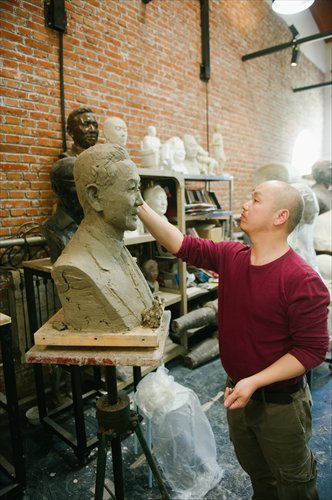 An artist in Heiqiao Art Zone works on a sculpture. Photo: Li Hao/GT
Driving along a dusty road reeking of the overwhelming stench of rubbish, Heiqiao village in Chaoyang district looks little different from Beijing's other urban villages, with its disarray of brick and concrete tenements and dilapidated stalls.
But inside the 193-hectare neighborhood, marked by a surrounding railroad line, is a flourishing community of around 1,000 artists, both from China and abroad, in what has come to be known as Heiqiao Art Zone.
The village lies roughly 15 minutes' drive from the highly commercialized 798 Art Zone, a sprawl of decommissioned factory buildings which today doubles as a popular recreational and shopping area for locals and tourists alike.
In comparison, Heiqiao remains mostly unknown outside of the artistic community. Because of its relatively remote location, there are only three bus lines to shuttle people to and from the area. The black cab business there is thriving.
"Although it doesn't seem like a nice place to live from the outside, when you go inside [Heiqiao Art Zone], it feels you're entering into a pastoral idyll," said Zhang Aina, a 31-year-old sculptural graduate from the China Central Academy of Fine Arts, who has been living in the village since 2013, when it first began to emerge as an artists' community.
Zhang occupies a 100-square-meter duplex which doubles as a studio, for which she pays 2,500 yuan ($402.9) in rent per month - a price considerably cheaper than areas inside the Fifth Ring Road.
"Most of the artists here were born in the 1980s," said Zhang. "There are some foreign artists living here as well. We all work on contemporary art."
The artists living in Heiqiao, said Zhang, are engaged in a diverse range of practices, including photography, sculpture, painting and installation.
Unlike Beijing's other art zones like 798 and Caochangdi, it is yet to be overrun by commercial interests.
"It's tranquil here, and there are few economic influences. This place is pure," she said.
However, fears are starting to arise among the community, with some artists claiming they are facing unreasonable hikes in rent and being forcibly evicted.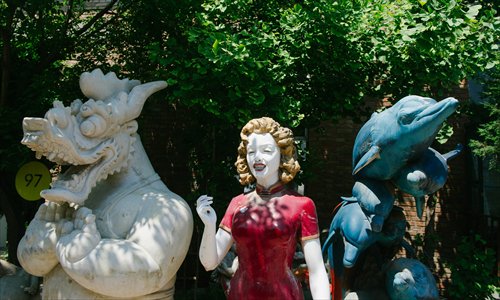 Artists in Heiqiao Art Zone are fighting to stay in the peaceful community they have created. Photo: Li Hao/GT
Landfill turned artists' community
Zhang said when she first considered moving to Heiqiao, she was concerned that it was a former landfill. "But lots of the art communities in Beijing at the time were facing forced demolitions when this area started to grow, and the rent here was affordable, so I decided to move here," said Zhang. "It's improved a lot."
Zhang said there was now a mature infrastructure in the village to meet everyday needs, such as restaurants and bars, as well as to fulfill the specific requirements of artists, from galleries to places for mounting and framing paintings.
According to news portal NetEase last year, the emergence of concentrated art communities in Beijing can be traced back to the 1980s, when the first artists' village appeared near the Old Summer Palace in Haidian district. Although disassembled in 1995, it has served as a model for subsequent artists' communities in Beijing.
Chase Walker Bray, a 27-year-old mixed media artist from the US who has been living in Beijing for three years, moved to Heiqiao last year.
"What's unique about Heiqiao is that when I get out of the house, I'm interacting with villagers and I'm part of the local life," said Bray, who also considered other artists' communities like Caochangdi and Jinzhan when he chose to leave 798.
"It's unlike other artists' communities, where it's only artists dealing with and communicating with artists."
Housing wrangles
However, some artists are now facing soaring rental prices and what they are describing as forced evictions, leading them to fear that Heiqiao will face the same fate as Songzhuang, Jinzhan and Caochangdi.
In recent years, there have been numerous media reports about artists in the aforementioned villages being forced to leave their rented homes to make way for real estate developers seeking to buy up the properties to convert the areas into more commercially profitable zones.
Hu Yiping, a sculptor and friend of Zhang's who has also been living in the village since 2013, said her landlord had broken the terms of their rental contract in order to remove her from her home.
Hu said that in her tenancy agreement, it was stated that the property could be renewed on a per year basis, and that the landlord could not raise the rent by more than 10 percent each year.
If the landlord wished not to renew the contract for the next year, she was obliged to inform Hu six months in advance.
Hu's current lease expired on May 1. She was told on April 26 that if she wanted to continue renting the property, she would have to pay 56,500 yuan per year, an increase of 37.5 percent over what she had been paying. If Hu was unwilling to meet the new rental price, a representative of the landlord told her, she would have to move out within 10 days.
When Metropolitan visited Hu's house on May 15, there were people installing cameras outside the property, which Hu said had been sent by the landlord. "It's to monitor me and my friends," said Hu. "They also broke my windows and my roof is becoming unhinged when the wind is strong [because the landlord refuses to make repairs.]"
Hu said her electricity had also been cut by the landlord, and that there was also a day on which she had no running water and had to use a fishbowl to collect water to flush the toilet. She added that nearly 40 other artists in Heiqiao were facing similar situations.
Hu said she had no direct contact for the landlord, a woman by the name of Li Jinfeng, and that all her dealings were with a representative of the landlord, a man surnamed Shen. When contacted by Metropolitan, Shen said Hu's lease had expired and was thus required to leave. He refused to answer questions about the terms of the contract, the raise in rent, and whether the landlord wanted to Hu to leave. He also refused to comment about whether other property owners in the area were doing the same.
Hu said she had moved all her sculptures to be stored in other places. "I'm scared that they will break into the house. I've already suffered [economic] losses. I don't want to lose more." She said she hoped to be able to stay at her current home, as she had spent more than 100,000 yuan renovating it over the past two years. She has sought out a lawyer and would turn to legal means to resolve the situation.
An official from the Heiqiao village committee surnamed Li (no relation to Li Jinfeng) told the Legal Mirror on May 13 that he was aware that Li Jinfeng, who owns multiple properties in the village, had dismantled window fixtures from several houses she owns currently being rented out to tenants.
"The landlord [Li Jinfeng] told me that she wants to take back the properties for her own use. She doesn't want to rent them out anymore," said Li.
Li from the village committee added that they had not adjusted any fees for the use of land in the village, and thus were not responsible for any of the price hikes in rent.
Finding a way to stay
It was not the first time Hu was faced with such a situation. She once rented a studio in Naidong village, Chaoyang district, but the landlord disappeared with the contract after it was signed and after Hu had handed over her deposit and rental money.
Although Zhang has thus far been spared a similar ordeal, she said that the situations of Hu and other artists in the village were cause for concern. "Artists are like nomads. We're always being made to migrate," she said. "We often say that if we can stay in a place for more than three years, it's worth the money."
Zhang added that she felt artists were frequently marginalized by commercial interests in society. "As young artists, we need support but the conditions at present make it hard for us to grow."
Bray said if Heiqiao were not facing such difficulties, it would be an ideal place for artists. "But I hope Heiqiao won't become the next 798, because 798 now has more cafes than galleries," said Bray. "Places like 798 and Caochangdi are too expensive. Artists in Heiqiao wouldn't be able to afford 798 and Caochangdi."
In addition to finding a lawyer, Hu said they were planning to make an application to the police to hold a public event to call attention to their dilemma.
She said she hoped local authorities and policy makers would consider the village in terms of the long term benefits it brings to the cultural life of Beijing, and would offer its support and protections to the village, rather than seeking to capitalize on short term gains.
"Beijing has a strong cultural foundation," said Hu. "If the local government has good sense, they should support us."