High-speed rail to link Beijing, co-bidding 2022 Olympic city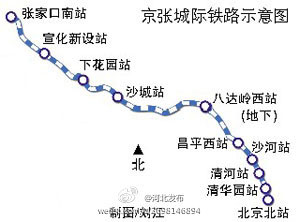 The picture shows the stations covered by the Beijing-Zhangjiakou Inter-city Express. [File photo]
An inter-city express linking Beijing and Zhangjiakou, the two candidate co-host cities for the 2022 Winter Olympics, will start construction this year, the Beijing Youth Daily reported.
The high-speed rail line stretches 174 kilometers, covering nine stations, construction is expected to last four and a half years.
It's estimated that the travel time between the two cities would be shortened to 50 minutes from around three hours.
Besides a shorter travel time, some scenic spots along the planned rail line is another reason that makes the express worth trying.
【1】
【2】
【3】
【4】
【5】
【6】
(Editor:Kong Defang,Yao Chun)
Related reading