The Malaysia Airlines flight MH370 carrying 239 passengers and crew, 154 of them Chinese nationals, disappeared on March 8, 2014, shortly after taking off from the Malaysian capital of Kuala Lumpur, but it never arrived at its destination, Beijing.
The Boeing 777-200 plane went missing after losing contact with air traffic control about an hour into its routine journey in the early morning of March 8, leaving behind the world's greatest aviation mystery.
More than two dozen countries have been involved in the air, sea and underwater search for MH370 but year-long search has failed to turn up any trace of the missing aircraft.
The Malaysian government officially declared on Jan 29, 2015, the disappearance of the plane an accident, which in another way pronounced the 239 people onboard dead, shattering the hopes of families and friends that their beloved ones may still be alive.
Speculations about what happened to MH370 range from sober, science-based arguments that the plane has crashed into the southern Indian Ocean, but not necessarily in the current search area, to the wild - alien abduction, MH370 and its doomed fleetmate MH17 were the same plane.
None of the speculations will convince the public until the truth comes out.
On the one-year anniversary of MH370's missing, let's look back at the accident, investigation, and family stories in memory of the 239 lives.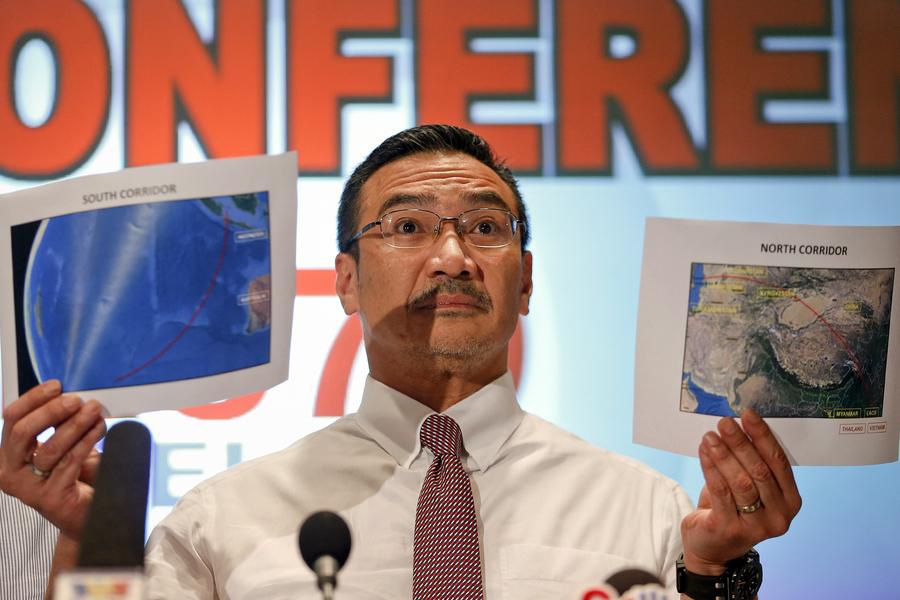 Malaysia's acting Transport Minister Hishammuddin Hussein shows two maps with corridors of the last known possible location of the missing Malaysia Airlines MH370 plane as he addresses reporters at the Kuala Lumpur International Airport in this March 17, 2014 file photo. The flight from Kuala Lumpur to Beijing carrying 239 passengers and crew went missing on March 8, 2014. [Photo/Agencies]
【1】
【2】
【3】
【4】
【5】
【6】
【7】