In today's trending, a wife accidentally burns 100,000 yuan when boiling water, an angry woman pours noodles over a woman feeding her boyfriend and a man lied about living in a cave.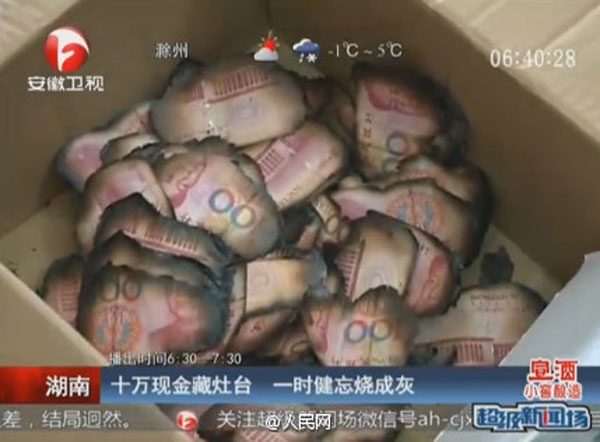 The 100,000 yuan was burnt to ashes. [Photo from People's Daily Sina Weibo]
Money reduced to ashes
A couple from Central China's Hunan province burned 100,000 yuan ($15,948) in cash hidden in a cooking stove in their kitchen, Hunan TV reported.
Wang Bing, a labor contractor, from Shaoshan, Hunan province, contracted a tiling project last year. He borrowed the money from relatives and friends and prepared to pay workers after the Spring Festival.
The couple put the cash into a plastic knitting bag and hid it in the stove, as they thought it would be very safe. However, Wang's wife forgot about it and burned the money to ashes when she boiled water.
There can be no exchange when less half of a banknote is damaged, according to the People's Bank of China.
Next up: a woman assaults another woman with rice noodles.
【1】
【2】
【3】