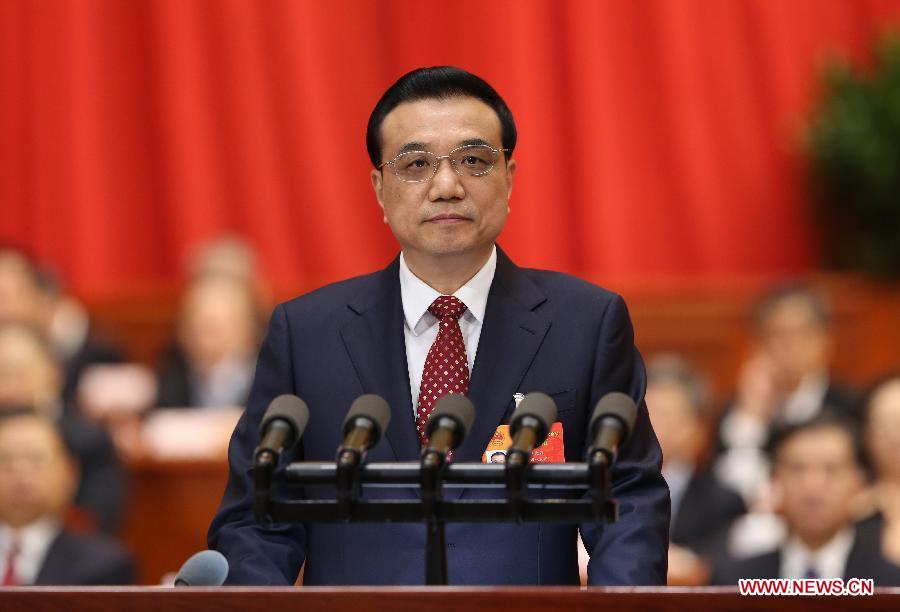 Chinese Premier Li Keqiang delivers the government work report during the opening meeting of the third session of China's 12th National People's Congress (NPC) at the Great Hall of the People in Beijing, capital of China, March 5, 2015. (Xinhua/Huang Jingwen)
BEIJING, March 5 -- The shrinking Chinese economy can still maintain medium-to-high speed of growth and achieve medium-to-high level of development, according to a government work report released on Thursday.
It was the first time that an important official document features the double "medium-to-highs". To this point, the report, which is delivered by Premier Li Keqiang to the parliament for examination, said China needs to rely on both the traditional and new engines of growth.
The double "medium-to-highs" provide a long-term solution for the Chinese economy and helped ease worries over the outlook of the world's second largest economy, said Zhang Xiaoji, senior researcher at the Development Research Center of the State Council.
To foster a new engine of growth, the government report said the government will continue encouraging mass entrepreneurship and innovation. And to transform the traditional engine of growth, China will focus on increasing the supply of public goods and services.
China has 1.3 billion people and a 900-million workforce. "If we could activate these many cells in society, the economy of China will for sure resist the downward pressure and will brim with more vigor," the report said.
China is taking steps to mobilize all elements of its 1.3 billion population and more than 70 million enterprises to play an active role in development, through power growth and job generation. The number of newly founded companies in China surged almost 46 percent year on year to 3.65 million in 2014.
Gu Shengzu, a Beijing-based senior economist, said earlier that reform measures, especially those lowering the threshold for starting businesses and removing restrictions on businesses, and the rise of the Internet economy have fueled a new wave of entrepreneurship in China.
Entrepreneurship is unleashing the innovative power of the Chinese people and becoming an important engine for stable growth and a smooth transition to the new normal, Gu said.
According to Gu, the number of newly registered businesses grew by 61 percent from March to August over the previous year, thanks to business registration reform. In high-tech hubs such as Zhongguancun, Zhangjiang and Donghu, numerous startups have been established by young people with the help of angel funds, he said.
Li told Chinese lawmakers that inadequate supply of public goods and services remains a weak link in China's development. The government would increase the supply of public goods and pour more investment into education and healthcare, he said.
Official data show that China's capital stock on public infrastructure, in per capita terms, is only 38 percent that of Western Europe and 23 percent that of North America. The development of China's service sector is 10 percentage points lower than other developing countries at similar development stages.
To provide such public goods and services to improve people's lives is the Chinese government's responsibility. They are also important ways to boost domestic demand and spur growth, he said.
The Chinese government has been trying to boost domestic demand amid falling exports to shore up economic growth, which has been slowing down to a state that is called "new normal".
The term "new normal" gained ground in China in May 2014, when President Xi Jinping, during an inspection tour of central China's Henan Province, described the need to adapt and remain cool-headed as growth slows.
In the 35 years between 1978 and 2013, annual growth of the Chinese economy averaged close to 10 percent and, between 2003 and 2007, it was over 11.5 percent. However, the "good old days" had to end. Growth decelerated to 7.7 percent in 2012 and 2013.
Zhang, also a national political advisor, told Xinhua that such factors as demographics, land and capital had helped China achieve a long period of staggering economic growth in the past three decades.
Such input and growth model, however, is not sustainable. So China has to rely on technological progress and institutional reforms to maintain growth in the next several decades, he said.
In 2014, China's gross domestic product (GDP) surpassed 10 trillion U.S. dollars by growing 7.4 percent, against the government-set growth target of "around 7.5 percent", registering its weakest annual expansion since 1990.
The new normal means adjusting to slower growth. More importantly, it also means more sustainable and efficient growth for several decades to come -- at least, that is the aim.
【1】
【2】