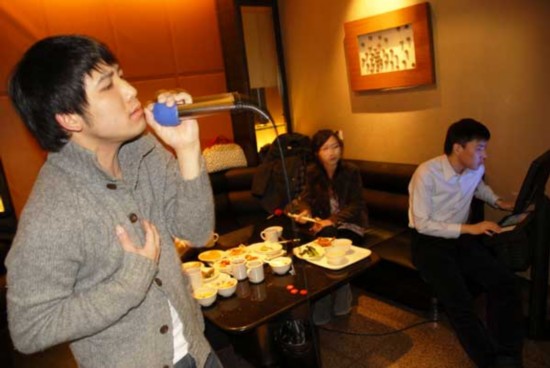 Customers enjoy singing at Cashbox Party World KTV. Photo provided to China Daily
The out-of-date systems in the aging Party World is the main reason that it is losing customers, says Zhang Wanning, a college student who lives in the Chaoyangmen area.
"I prefer the Chun K (Show Time) in nearby Sanlitun because it's got a more adequate ordering system and database compared to Party World. I can record and upload my singing immediately via an app in the karaoke box. But when I was at Party World the last time, I could not even find the songs I wanted, not to mention any fashionable apps. It was out of date."
Another factor might be the food.
"Honestly, the buffet is the primary attraction for me," says Wang Xinyi, one of the loyal customers of Kincoo, another popular karaoke spot in Beijing.
"Singing and eating should always go together. I can remember Party World serving free buffets a couple of years ago. They should not have canceled it."
The government's crackdown on official spending on entertainment is also considered as one of the reasons of the closure.
The increasing variety of other entertainment outlets like night clubs, board games and room escape venues is also eclipsing the popularity of KTV.
"The KTV trend is dying," says Xu Huan, a native Beijinger who is studying sociology in New York. "It is about the society. The connection between individuals is getting weaker nowadays, especially in metropolises like Beijing. People become more used to 'wireless' contact instead of the actual seeing, talking, and staying together. I don't know if I should blame this on the invention of WeChat, or the Internet."
"KTV is simply a product of its time, of this generation. The generation has grown up. Now Party World is closed, next it might be Melody. It's just a matter of time," he says.
In southern Guangzhou, where the business is also squeezed by competition, the austerity drive and the changing tastes of customers, KTV lounges are expected to diversify and offer differentiated services in order to survive.
Zhang Kui, a manager of a Guangzhou food and entertainment group that has acquired the local branches of Party World, told local media that his company may try to integrate KTV with fashion, coffee shops and bookstores to cater to a broader base of customers.
Related:
New tidings from reality TV programs
Western stars and their Chinese aliases
Previous Page12Next Page Previous Page12Next Page
【1】
【2】