The T5683 express train slowly pulled away from Beijing West Station at 10:50 a.m. on Wednesday, Feb. 4, 2015, the first day of this year's peak travel season for Spring Festival, the traditional Chinese New Year. Few passengers bother to care about who is driving their home-bound train, since safety and punctuality are their primary concerns.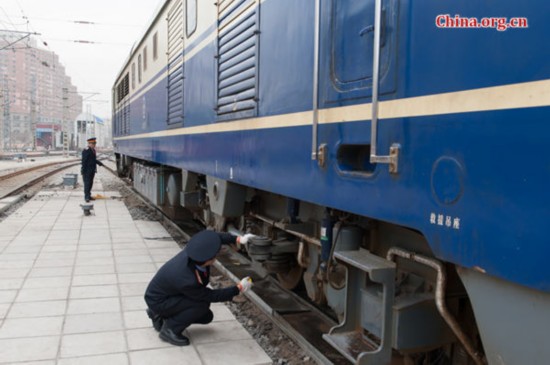 Song Jian (R), the deputy driver of the train T5683 and his master, the chief engineer perform a thorough pre-departure inspection of the locomotive. [Photo by Chen Boyuan / China.org.cn]
These are the concerns of this train's deputy driver, Song Jian, a 26-year-old man. Song reported for duty at 8:30 a.m., more than two hours ahead of the train's departure time, although the entire 120-kilometer trip ahead is only a little more than one and a half hours.
During the two hours of preparation, he performed a thorough visual examination of the entire locomotive, checking whether the meters were displaying correctly and whether there were any loose bolts, but he is unable to modify anything if he detects a problem. Instead, he has to report his findings to his partner, the chief engineer, the only one who is authorized to do repairs.
Song said that the two hours of preparation are standard procedure stipulated by the local Beijing railway authorities, adding that he personally has found that two hours is the "minimum duration" needed for a thorough pre-departure inspection.
"A bus carries dozens of passengers, but a train carries up to 2,000. This is why we have to ensure complete safety," said Song.
A deputy engineer, Song is not allowed to operate the locomotive either. He can only assist the chief engineer throughout the trip with such tasks as attaching the locomotive to the carriages, confirming every single traffic signal with the driver and performing inspections during the journey.
"Notice! White light ahead, full speed allowed!" Song said aloud while standing, pointing his finger at the railway traffic light in the distance. The chief engineer responded aloud, "White light, roger!" while pointing to the signal as well. Song explained that the pointing gestures are designed to ensure that his eyes are looking where his fingers pointing, which ultimately was also to ensure safety. At other times, he would say aloud, "Yellow light, caution!" or "Turnout ahead in correct position. Proceed!"
【1】
【2】
【3】
【4】
【5】