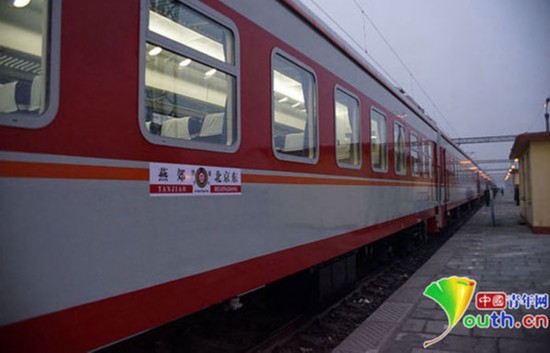 More than half of the carriages of the K7782 train are empty on February 3, 2015. Chinese railway department operates several temporary trains during the morning and evening rush hours to meet the demand of people, who live in Yanjiao and have to spend hours commuting from Yanjiao to Beijing every work day. [Photo: Youth.cn]
Only 132 people chose to take the K7782 train on Monday from Yanjiao to Beijing, accounting for less than ten percent of the capacity of this train, youth.cn reports.
The K7782 train is one of the temporary trains operated by China's railway departments during morning and evening rush hours to facilitate people who commute between Beijing and Yanjiao in the neiboring Hebei province.
Though the timing has been regulated compared to the inter-city bullet trains that have been shut down, the terminus has changed from Beijing Railway Station to Beijing East Railway Station, which makes it rather difficult to reach there for most of the passengers.
A passenger surnamed Liu complained that it was exhausting and too much trouble to get to the Beijing East Railway Station.
Yanjiao, a small town of north China's Hebei Province and some 30 kilometers away from central Beijing, is home to about 500,000 office workers in the capital.
Chinese railway department decided in January to shut down several inter-city bullet trains linking Beijing with Yanjiao, and Langfang City in Hebei to beat the "Spring Rush", which starts from February 4 and ends on March 5.
These bullet trains have been in service for no more than twenty days.