Making the pole their goal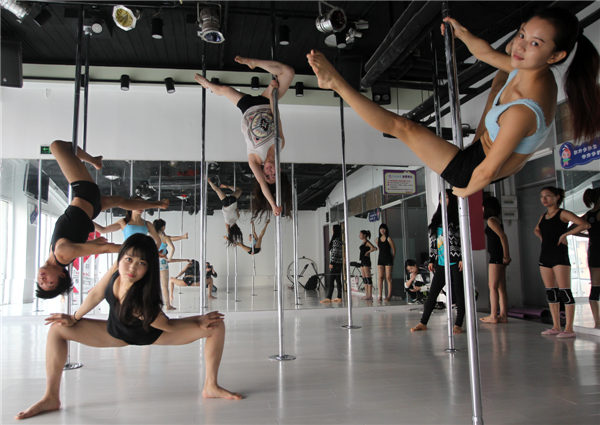 Students train at the Luolan Pole Dance School in Beijing. Many young people see the activity as a potential money spinner. Photos by Zhang Wei/China Daily
Pole dancing is growing in popularity in China, where it's regarded as a good form of exercise with an image far removed from the sleazy activity associated with seedy nightclubs in the West, as Sun Xiaochen reports.
Few people who enter the main studio of Luolan Pole Dance School in the heart of Beijing's Central Business District are likely to be immune to the energy of the students' sensual, elegant movements.
Amid the thrilling beat and the squeak of flesh on metal, more than 20 scantily clad young women propel themselves vertically on 4-meter-high poles, swinging upside down, arching their backs, and extending their legs while holding the pose with power and grace. It's called the "Batman stunt", according to their male instructor Yan Yulin. Then, following a series of spins with their legs wrapped around the pole, the dancers dash down to end the routine with a brake clamp that stops their bodies 10 centimeters above the hardwood floor.
【1】
【2】
【3】
【4】
【5】
【6】
(Editor:Liang Jun,Yao Chun)