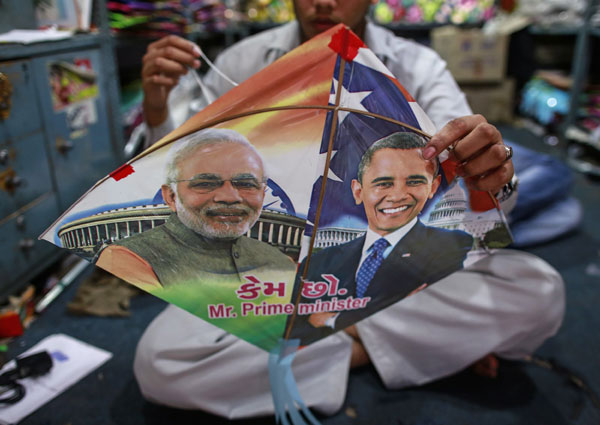 An employee ties threads on a kite, with portraits of Indian Prime Minister Narendra Modi (L) and US President Barack Obama, ahead of Obama's visit, in Mumbai January 23, 2015.
India may be pushed back against China once again. This, in essence, is the line many media commentaries have been taking. It is this backdrop that makes US President Barack Obama's visit as the chief guest at India's Republic Day parade on Jan 26 interesting. His visit follows that of Japanese Prime Minister Shinzo Abe, who visited India last year in same capacity and whose second visit is expected in the near future.
Indian Prime Minister Narendra Modi's hyperactive foreign policy has triggered speculation of all kinds. Modi has been warming up to his decades-long detractor, the United States - reflected in the back-to-back visits of American secretaries of commerce, defense and state and more than a dozen other senior officials, making India the largest buyer of American weapons and the US the largest trading partner of India. US allies have taken this as a signal to indulge India's new leadership.
Or, are the US allies leading India up the garden path in New Delhi. The fact that Japan and India both have territorial disputes with China is often seen as the reason for the bonhomie between the second- and third-largest economies in Asia. Indeed, Japan was the only developed country not to shun Modi when he, as chief minister of the province of Gujarat, was accused of violating human rights.
India today seems friendly with all major powers, raising questions on how it will balance its engagements with the US and its allies on one hand and China and Russia on the other. Just three years ago, China was India's largest trading partner, and Russia was seen as the largest supplier of its defense technologies.
Even today China remains an important trading partner; in fact, it recently promised to invest $20 billion to revive India's manufacturing sector, especially the power generation sector. This, seen against the backdrop of the hyperactive bonhomie among emerging economies, such as the member states of BRICS (Brazil, Russia, India, China and South Africa), BASIC (Brazil, South Africa, India and China) and RIC (Russia, India and China), has been worrying Western powers facing economic slowdown since 2007.
Apart from China's unprecedented rise, its increasing assertiveness in regional and global matters is often cited as a possible trigger for India's policy drift in favor of Western countries. Modi's repeated mention of "expansionism" and maritime terrorism, underlining the need to ensure freedom of navigation and over-flights suits the US, which has introduced the "pivot to Asia" and proposed the Trans-Pacific Partnership to counter China's rise.
Although India's DNA will never allow it to become a close ally of the US and its leadership can never be imprudent enough to adopt a policy of containing China, there is no doubt that China's continuous rise has become a matter of concern for New Delhi.
One of the principal reasons Modi won the election last year was his promise to reverse the tide of scandals and policy paralysis, and focus on development and justice. But Modi must realize that since the Chinese economy has increased from 2.5 times that of India's in 2000 to five times today, he has to focus on economic diplomacy and build partnerships with one and all to replicate China's policies.
Although it could lead to miscommunication and misunderstandings, Modi sees no contradiction in pursuing friendly ties with both, the US and China. Calibrating various competing interests and balancing various competing domestic constituencies calls for bold initiatives at home and diplomatic finesse in foreign policy. And it is the duty of India's partners, including China, to ensure that their mutual trust-deficit is not allowed to derail their expanding partnerships.
The author is a professor at School of International Studies, Jawaharlal Nehru University.