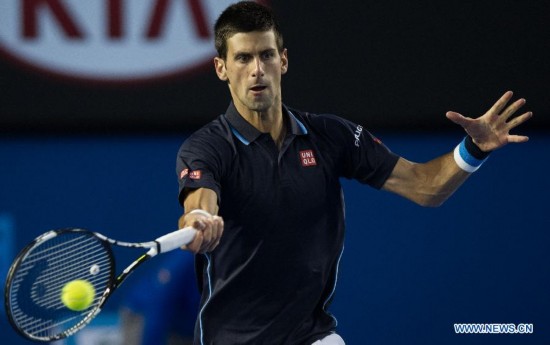 Novak Djokovic of Serbia returns the ball during the men's singles third round match against Fernando Verdasco of Spain at the 2015 Australian Open tennis tournament at Melbourne Park in Melbourne, Australia, Jan. 24, 2015. Djokovic won 3-0. (Xinhua/Bai Xue)
By Riley Beveridge
MELBOURNE, Jan. 24 (Xinhua) -- Novak Djokovic solidified his position as Australian Open favorite with a straight sets victory over Spanish veteran Fernando Verdasco on Saturday.
The world No. 1 didn't have it all his own way, forced to overcome a first-set tiebreaker against Verdasco, but he failed to have his serve broken throughout the match and eventually eased to a 7-6 (10-8), 6-3, 6-4 win.
Asia's top-ranked tennis player, Kei Nishikori, also progressed to the fourth round after returning from a first-set loss to defeat American Steve Johnson.
Meanwhile, in the women's draw, American teenager Madison Keys caused a major upset, defeating fourth-seed Petra Kvitova in straight sets.
Keys was dominant from start to finish against her highly rated opponent, winning 6-4, 7-5 as yet another top seed exited early.
Aiming to become only the second player in history to claim a fifth Australian Open crown, Djokovic knew from the outset that Verdasco would provide stiff competition.
With powerful ground strokes and a plan to attack Djokovic at every opportunity, Verdasco started well and sent the first set to a tiebreaker. However, the Serbian held his nerve to take it 10-8.
It remained an uncomfortable evening for Djokovic, who relied heavily on his first serve to stave off the threat of his Spanish opponent. But Verdasco was proving just as difficult to break down.
In fact, Verdasco was broken only twice throughout the match, once in the second and once in the third, but that's all it took for Djokovic to pounce, recording a grueling win.
Djokovic had a first-serve success rate of 73 percent, his all-time highest in the tournament's history, and credited the way in which he served throughout the match as the defining factor in his victory.
"I didn't give him too many similar serves," Djokovic told reporters after the match. "I changed the pace, the angles, I tried to go for accuracy, vary with the serve and not give him rhythm.
"He had a couple of opportunities. I think the closest he was at was love-40 in the second set. And then a couple of my last service games in the third set he got to 15-30 and love-30.
"But because I served well, I think that's what helped me to get out of trouble in these big moments."
Earlier, Nishikori overcame a fast start from Johnson to seal his passage through to the fourth round of the tournament, winning 6-7 (7-9), 6-1, 6-2, 6-3 in four sets at Hisense Arena.
The Japanese No. 5 seed lost the first set in a tiebreak, but soon found his rhythm and won nine of the next 10 games to click into gear.
Nishikori would reveal after the match that he felt he was playing within himself throughout the first set, but managed to gain more confidence after going behind.
"I think it was a little bit of everything," Nishikori told reporters, referring to his slow start. "He was playing aggressive, hitting really deep, good serves. I really couldn't do anything.
"The tiebreak is always tight points. I just couldn't hit through. I didn' t want to risk it too much. That' s why I couldn' t get the tiebreak.
"After playing the first set, I started feeling a little bit, not relaxed, but no pressure. I started thinking 'just go for everything'."
Meanwhile, Keys's straight sets victory over Kvitova means only 10 of the top 32 seeds in the women's side of the draw remain going into the fourth round.
Keys, who is just 19 years of age, showed no signs of nervousness against the two-time Grand Slam champion, completing an impressive 6-4, 7-5 win to set up a fourth-round match with fellow unseeded American, Madison Brengle.
Elsewhere, on the men's side, David Ferrer nearly let a sizeable lead over Gilles Simon slip on four separate occasions, but eventually held on for a 7-2, 7-5, 5-7, 7-6 (7-4) victory.
In a match of enduring rallies, Ferrer failed to serve out the match at 5-4 in the third set and then at 5-2 and 5-4 the set after, as Simon forced the fourth to a tiebreak.
Finally, the No. 9 seed closed out the match, but not without Simon saving two match points first, to advance to the fourth round of the competition.
Meanwhile Gilles Muller, from Luxembourg, defeated American No.19 seed John Isner in straight sets.
In a battle between the Australian Open's two best servers so far in this tournament, there was unsurprisingly only one service break in the match. That fell for Muller late in the third set, as he recorded a 7-6 (7-4), 7-6 (8-6), 6-4 victory.
【1】
【2】
【3】