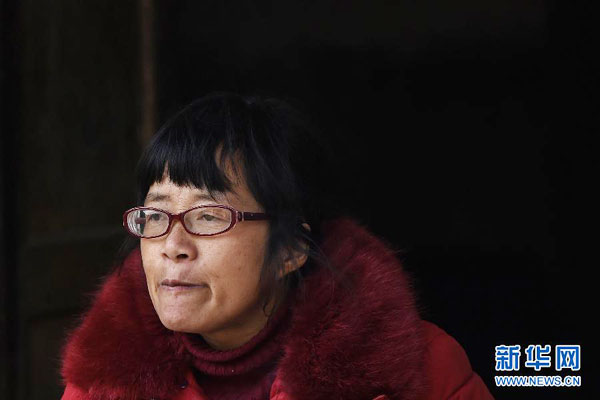 Chinese farmer Yu Xiuhua has been praised as China's Emily Dickinson by the media. [Photo/Xinhua]
She attained fame overnight, almost rudely. But then she is no ordinary poet (poetess, to be politically incorrect), for she has been serving the three muses of poetry, Calliope, Euterpe and Erato, for 16 years.
Yu Xiuhua is a farmer and all of 39 years old. She lives in Zhongxiang of Central China's Hubei province, and has been called by the media as the "poetess with cerebral palsy (a condition characterized by movement problems)". Yu broke through social media WeChat recently after poetry magazine twitted her poem, Crossing big China to sleep with you.
Many media outlets have talked about her and her poems but their approach has been somewhat complicated. They have indeed praised her poems saying they carry real feelings and the power to move hearts. But, unwittingly or otherwise, their focus seems to be on her physical and social conditions, with one media outlet describing her as "a countrywoman who composes poems".
The woman described by some media outlets as "China's Emily Dickinson", the famous American poet, dropped out of senior high school, has lived the life of a farmer since and does suffer from cerebral palsy.
But none of her physical traits, or the lack of them, have anything to do with her ability to compose poems. In the world of poetry, the only things that matter are words, and the feelings and meanings they carry. And her poem, Crossing big China to sleep with you, conveys that feeling, full as it is with passion: "Across China, all is happening: volcanoes are erupting, rivers are running dry...I pressed nights into a dawn to sleep with you, I gathered all I am to sleep with you".
That she became famous overnight mainly because of media hype, rather than on the basis of her works, is a reflection of the times we live in. By using offensive epithets such as "poetess with cerebral palsy" or "countrywoman who composes poems", media outlets have succeeded in catching the eyes of readers and viewers.
【1】
【2】