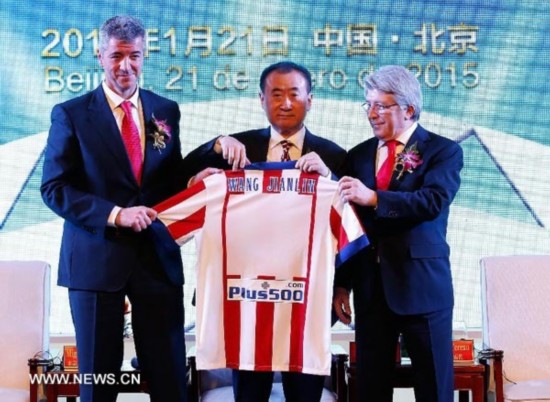 Chairman of Wanda Group Wang Jianlin (C) holds the jersey presented by Chairman of Atletico de Madrid Enrique Cerezo (R) and CEO of Atletico de Madrid Miguel Angel Gil during the agreement signing ceremony in Beijing, capital of China, Jan. 21, 2015. Chinese billionaire Wang Jianlin has bought 20 percent of the stake of Spanish league champion Atletico de Madrid, Wanda Group announced on Wednesday. (Xinhua/Wang Lili)
BEIJING, Jan. 21 -- Chinese billionaire Wang Jianlin has bought 20 percent stake in Spanish league champions Atletico Madrid, Wanda Group announced on Wednesday.
The real estate tycoon closed the deal with Atletico chairman Enrique Cerezo in Beijing. According to the contract, Wang will pay 52 million U.S. dollars for the stake, which is set to ease the Spanish outfit's debt burdens.
Both parties were pleased with their cooperation.
"The president and CEO of Atletico Madrid club are good friends of mine, so it is a bargain price," said Wang.
"We know last year, a Chinese club sold their 50 percent stake for almost 200 million dollars," he added.
China's largest e-commerce company Alibaba Group paid 192 million dollars for 50 percent stake of the country's Super League champions Guangzhou Evergrande.
As for Atletico, the deal will add more international flavor to the club.
"Wanda is the leader of global real estate industry, I hope our corporation could help to promote our international image," said Enrique Cerezo.
The deal involved opening three Atletico Madrid football schools in China, sponsorship deals and a possible tour by the club to China later this year. Also, Dalian Wanda owner Wang and Atletico will combine to invest 34 million dollars for a youth center in Madrid to foster Chinese soccer talent.
Wang disclosed Wanda may continue to invest more in European football clubs.
"Wanda may continue to buy more stake in European football clubs," he said. "We want to offer more opportunities to talented Chinese youths to play on the international stage."
Wanda Group has been funding a youth training project which already brought 90 young Chinese players to Spain and the number is expected to reach 180 in 2017.
Wang, ranked 42nd in Forbes' list with his fortune estimated at around 18 billion dollars, said his cooperation with Atletico is based on friendship with the club's chiefs and his own dream to raise the game of young Chinese players.
"What we are doing is to raise the level of Chinese game," said Wang. "Hopefully, three to five among those 90 young players will play for top European clubs in the future and in five years, Spain-trained players will fill the Chinese team in the Asian Cup."
Wang was once owner of the Dalian Wanda football team in then Chinese first division league, the predecessor of the current Chinese Super League, but sold the club in 2000 over disillusionment with a league rife with corruption and scandals.
In 2011, Wang returned to Chinese soccer as a sponsor of the Super League. And he started investing widely in major European cities.
Wang raised 3.7 billion US dollars last month by floating a chunk of his Wanda stock on the Hong Kong stock market.
Wang has been the latest major foreign investor in Spain's football market.
【1】
【2】