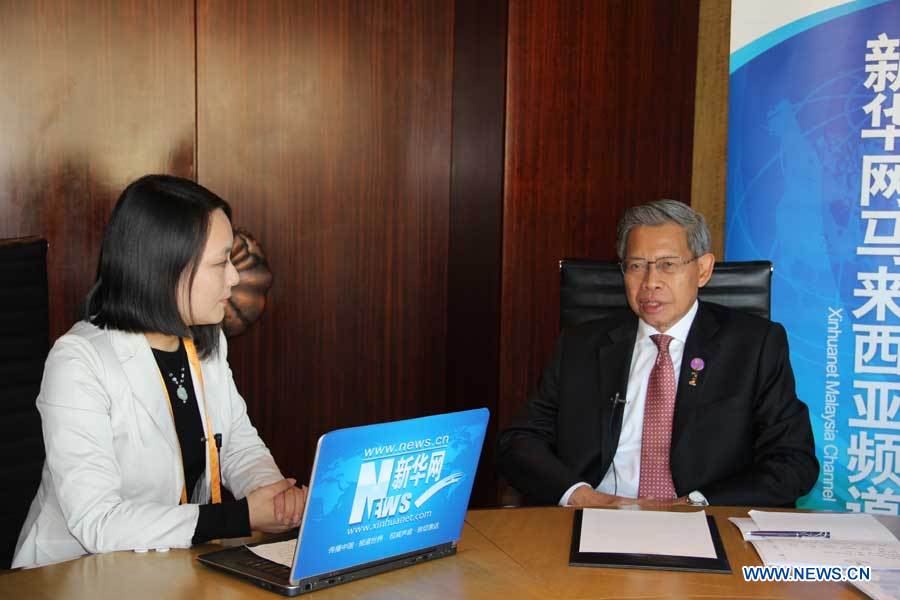 Mustapa Mohamed (R), Malaysian Minister of International Trade and Industry gives an interview to Xinhuanet in Beijing on Nov. 9, 2014. (Source: Xinhuanet)
BEIJING, Nov. 10 - As the 2014 Asia-Pacific Economic Cooperation (APEC) meetings in Beijing encourage more regional investment, China is welcome to do so in Malaysia, said Mustapa Mohamed, Malaysian Minister of International Trade and Industry (MITI), on Sunday.
Mustapa said this when speaking of the big investment imbalance between Malaysia and China in an interview with Xinhuanet.
Indeed, the ratio between Chinese investment in Malaysia and Malaysian investment to China is about one to six."In other words, for every one U.S. dollar of Chinese investment in Malaysia, we have six U.S. dollars of Malaysian investment in China", said Mustapa.
China's investment abroad in the next 10 years is expected to reach 1.25 trillion U.S. dollars, said President Xi Jinping on Sunday, while addressing the CEO Summit of the ongoing APEC meetings.
Therefore, "we hope we could get a share of China's foreign investment in the future," said Mustapa, encouraging more Chinese enterprises to invest in Malaysia.
Chinese businessmen, who are keen to invest in Malaysia, are invited and asked to visit the Malaysia Industrial Development Authority (MIDA) in Kuala Lumpur, capital of Malaysia.
Besides, more measures and policies in favor of Chinese companies are being made, according to the minister.
"The MITI has three offices in Beijing, Shanghai and Guangzhou," said Mustapa, as the Malaysian government is trying best to make Malaysian policies better known to Chinese businessmen.
Meanwhile, more activities and institutions are carried out and set up to ensure all the agreements signed and all the decisions made during Malaysian Prime Minister Najib's visit to China could be implemented, according to the minister.
During Najib Razak's visit to China in late May, he vowed to follow the traditional friendship, strengthen the two sides' mutual trust, and actively promote the development of Malaysia-China relations.
"It means we have to do more things, covering every sector and field of our cooperation." said Mustapa.
On the ongoing APEC meetings in Beijing, Mustapa said ,"the decision to launch strategic Free Trade Agreement of the Asia Pacific (FTAAP) is a landmark decision."
Another landmark decision from the APEC meetings is to strengthen the comprehensive development in infrastructure and connectivity, he said, not only physical, but institutional and people-to-people connectivity.
"The reform and opening up is a great thing in China, and the reforms are going on in China", Mustapa pointed out, "we are watching it and so we can learn from China and other countries."
【1】
【2】