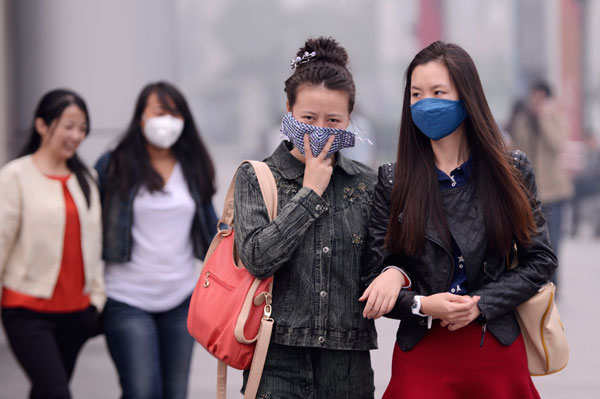 Thick smogshroudsBeijingon Thursday. The Beijing Meteorological Observatory upgraded the smog alert from yellow to orange, the second-highest level before red. The municipal government is to adopt measures, including restricting traffic according to license plate numbers, during the APECEconomic Leaders' Meeting in November.[WEI XIAOHAO / CHINA DAILY]
Vehicles to be restricted on city's roads; construction and demolition suspended
Beijing plans to keep a tight rein on pollution by cutting emissions caused by industrial production and vehicles when it hosts the APEC Economic Leaders' Meeting in November.
The measures are aimed at improving air quality for 10 days from Nov 3 and come as the capital has been hit by severe pollution in recent days.
This pollution is forecast to remain until Saturday, and on Thursday the municipal authorities raised the smog alert to orange, the second-highest level before red.
From November 3 to 12, the city will restrict the use of private vehicles based on even- and odd-numbered license plates, reducing the use of such vehicles by 35 percent, the municipal traffic committee said on Thursday.
All vehicles transporting construction waste and dangerous chemicals will be barred from the capital's roads during this period, but the restriction will not apply to buses, taxis and other vehicles such as police cars.
The measures are similar to those introduced from July 20 to Sept 20 in 2008 during the Beijing Olympic Games.
"The number of passengers using public transport will increase by 3 million a day," said Li Shaoming, deputy director of the Beijing Traffic Management Bureau.
During the 10 days, 400 additional buses will be used to transport commuters to meet increased demand.
The municipal government has also drawn up eight plans to reduce industrial pollution during the Asia-Pacific Economic Cooperation forum.
Zhuang Zhidong, deputy director of the Beijing Municipal Environmental Protection Bureau, said, "From Nov 3, production at some companies listed by the government will be suspended for 10 days."
Work will also be suspended at all construction sites and on demolition projects during this period.
"More important, Beijing will work with its neighbors to control emissions," Zhuang said, adding that there will be regular discussion on air pollutionbetween six governments.
Neighboring authorities in Tianjin municipality, Hebei, Shanxi and Shandong provinces and the Inner Mongolia autonomous region will operate strict pollution control measures over the 10 days.
"Beijing will make every effort to prepare for the APEC meeting and we need to control air and water pollution," said Guo Jinlong, the city's Party chief.
Media reports said that from Nov 7 to 12, employee departments, institutes and social organizations in Beijing can have a holiday, except for bureaus dealing with the APEC meeting and city management.