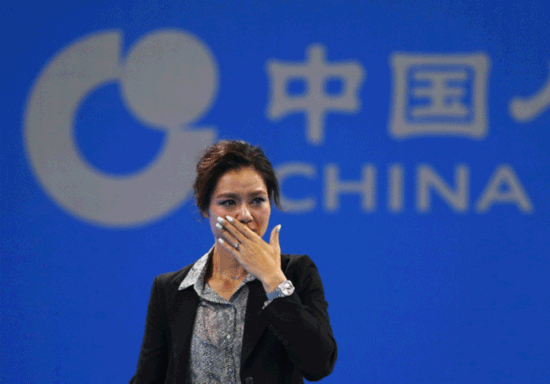 Tennis player Li Na of China cries during a retirement ceremony at the China Open tennis tournament in Beijing September 30, 2014. Li, Asia's only grand slam singles champion, announced her retirement from tennis last Friday, succumbing to the effect of long-term knee injuries.[Photo/Xinhua]
In front of a standing ovation at the Diamond Court in Beijing, China's tennis ace Li Na tearfully waved goodbye to her fans on Tuesday night.
Before the night session of the on-going China Open tournament, a farewell ceremony was held for Li, featuring officials from the Women's Tennis Association and Chinese Tennis Association, several world's top players and her loyal fans.
"I'm very happy to have the chance to say goodbye to all of you here," said Li at the ceremony. "It's very tough to say goodbye, but I promise I will be around the court."
Li, 32, announced her retirement through her micro blog on Sept 19, saying she has to call an end to her competitive career due to knee injuries.
At 7:15 pm on Tuesday, the ceremony started with a video recap of Li's performance highlights at the 11th China Open
A group of WTA players, including Petra Kvitova, Jelena Jankovic and Caroline Wozniacki attended the ceremony.
"We are sad that you are leaving us but we wish you all the best," said Kvitova, who was also in tears.
"Thank you for being our opponent. Thank you for being our inspiration and thank you for being our friend," Kvitova said on behalf of all the players.
The Association of Professional Tennis Players player Rafael Nadal also appeared to present flowers to Li at the ceremony. The tennis stars were greeted with shouts from the crowds: "Don't leave us, Sister Na".
WTA Chairman &CEO Stacey Allaster also spoke highly of Li.
"You are the player of this decade," said Allaster. "Your legacy and contribution will leave for decades, not only for WTA, but also for China. We will miss you – your beautiful smile and funny personality."
As the most successful tennis player in China, Li captured nine WTA titles, two of them Grand Slams. Among her other feats were becoming the first Chinese player to win a WTA title, the first to win a Premier-level title, the first to compete in singles at the WTA Finals, and the first to crack the top 20, the top 10, and the top 5 on the WTA Rankings.
【1】
【2】
【3】
【4】