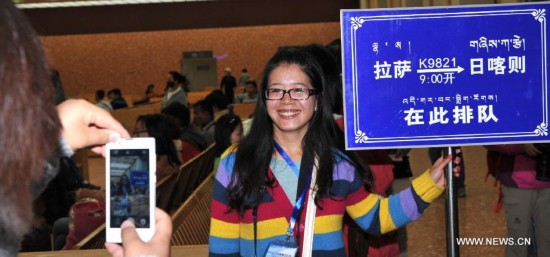 A passenger to take the train from Lhasa to Xigaze poses for photo as she wait for boarding the train at Lhasa Railway Station in Lhasa, capital of southwest China's Tibet Autonomous Region, Aug. 16, 2014. A second railway line in southwest China's Tibet Autonomous Region, which is 251 kilometers long and links the regional capital Lhasa and Xigaze, the second-largest city in the region, was officially put into use. (Xinhua/Soinam Norbu)
LHASA, Aug. 16 -- Passenger transport service started Saturday on the newly opened Lhasa-Xigaze railway, the second rail line in southwest China's Tibet Autonomous Region.
Train K9821 left the Lhasa railway station at 9 a.m. Saturday and arrived at the Xigaze station at 11:59 a.m. It made four stops along the way.
"Tickets went on sale yesterday for the first train. Today, 828 passengers took the train, or an occupancy rate of 99 percent," said Zhao Hailin, deputy head of the Lhasa railway station.
The 251-km railway links the regional capital of Lhasa with Xigaze, Tibet's second-largest city and the traditional seat of the Panchen Lama. It began construction in 2010 at a cost of 13.28 billion yuan (2.16 billion U.S. dollars) and officially opened Friday.
The railway has a total of 14 stops including Lhasa and Xigaze. It has a designed transport capacity of 8.3 million tonnes of freight annually and allows trains to travel at a minimum speed of 120 km per hour.
"We plan to pay a visit to the famous Tashilhunpo Monastery in Xigaze and return to Lhasa in the afternoon by train," said a tourist surnamed Le, who was accompanied by her parents on the train. They came from the southeastern coastal province of Fujian.
Le said when she learned about the opening of the Lhasa-Xigaze railway on TV, she went to the Lhasa station at around 5 a.m. Friday to buy tickets.
"We are very lucky to take the first train," said Wangdui, a Tibetan resident in Lhasa. "It is safe and comfortable."
Wang said it used to take a long time to travel between the two cities, but now it takes just three hours by train.
Train K9822 leaves Xigaze at 5:30 p.m. and arrives in Lhasa at 8:27 p.m.
The Lhasa-Xigaze railway is the first extension of the 1956-km Qinghai-Tibet railway, which began operation in 2006. The Qinghai-Tibet railway is the world's highest, built at an elevation of more than 5,000 meters above sea level.
【1】
【2】
【3】
【4】
【5】
【6】
【7】
【8】