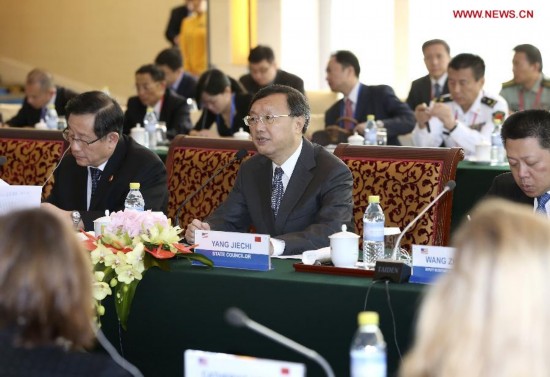 Chinese State Councilor Yang Jiechi (C) speaks during the strategic dialogue of the sixth round of the China-U.S. Strategic and Economic Dialogue (S&ED) in Beijing, capital of China, July 10, 2014. (Xinhua/Pang Xinglei)
BEIJING, July 10 -- A senior Chinese diplomat said Thursday that there must be no strategic misjudgments between China and the United States.
State Councilor Yang Jiechi said that achieving the two countries' goal of establishing a new-model relationship requires them to respect and treat each other with sincerity, adopt a correct perception of each other's strategic intent and never allow strategic misjudgment to arise.
Yang made the remarks as he joined U.S. Secretary of State John Kerry at the strategic track session under the annual Strategic and Economic Dialogue.
He pointed out that it took a lot of hardship over the past 35 years to develop the currently positive, cooperative and stable China-U.S. relations that both sides should cherish and safeguard.
They should stick to the general direction of bilateral ties, which must not be disrupted by specific incidents, he said. Building the new-model relationship requires consistent joint efforts from the two sides.
Sino-U.S. dialogue should be an "accelerator" of bilateral cooperation and a "buffer" in conflicts between the two countries, Yang said, adding it should play a more active role in advancing sustained, healthy and stable growth of China-U.S. relations.