Chen Guangbiao ads on A15 of NYT to host charity luncheon for 1,000 poor and destitute Americans (2)
The event will be held on June 25 at The Loeb Boathouse Central Park. The ad also included the email address for signing up.
Then four parts of contents followed, including advocating Lei Feng Spirit in a new era, restoring the image of China's wealthy by charity, wishing the Nanjing 2014 Youth Olympic Games great success and the development trend of Chinese economy in the future.
The ad featured a profile of Lei Feng, a young Chinese soldier in the 1960s, who is known for devoting almost all of his spare time and money to selflessly helping the needy. The essence of Lei Feng's merits was summarized as "being loyal to the country, serving the people heart and soul, living in a plain way and working hard". Besides, Chen also gave his opinion on China's economy in the future and said "the Chinese economy is not the first in the world and will not collapse."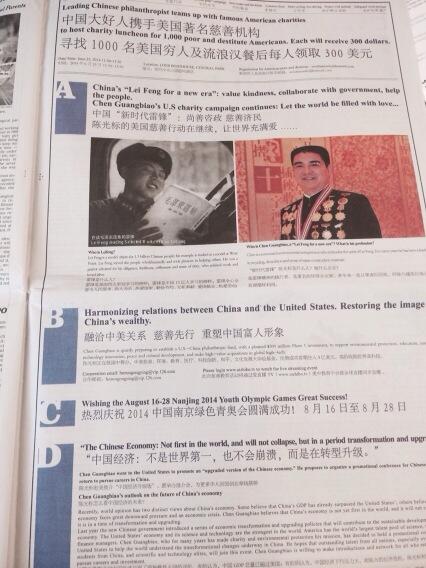 【1】
【2】
【3】
(Editor:Huang Jin、Yao Chun)
Related reading
Links