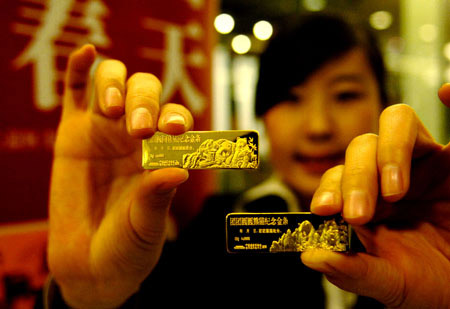 An employee shows two commemorative gold bars in Beijing. [File Photo: Xinhua]
China will launch a new contract today to set a "benchmark" price for gold bullion in the world's biggest producer and consumer of gold, as part of efforts to increase its influence in pricing of the precious metal.
The yuan-denominated gold fix will be launched on the Shanghai Gold Exchange this morning, with the benchmark price at 257.97 yuan (US$39.83) per gram, said a statement released by the exchange yesterday.
Eighteen banks and bullion traders have been chosen as initial market makers for the fix, including 10 Chinese lenders, Standard Chartered Bank, Australia and New Zealand Banking Group and six domestic and international bullion traders including Switzerland-based MKS Gold Ltd, the exchange said.
The world's top producer and consumer of gold has long been pushing to be a price-setter for bullion to enhance its influence on Asian and global markets.
The strategic move, coming a decade after China started to reform the gold market, of setting a new gold fix price also supports the internationalization of the yuan, an industry analyst from one of auction participants told Shanghai Daily yesterday. It will add pressure on the century-old London gold fix price.
China, which resumed its regularly reporting of bullion buying in July after a six-year gap, bought an impressive 103.9 tons in the second half of 2015, according to World Gold Council. China's gold reserves have ballooned by 708.2 tons since April 2009, the council added.
Hong Kong and Singapore have also recently launched exchange-traded contracts.