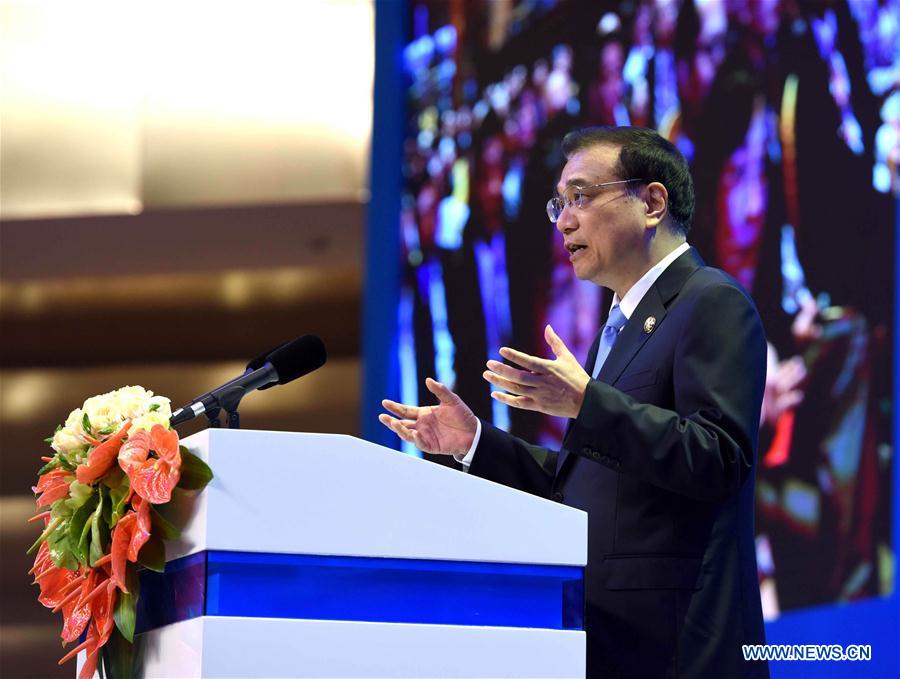 Chinese Premier Li Keqiangdelivers a speech at the opening ceremony of the Boao Forum for Asia (BFA) annual conference in Boao, south China's Hainan Province, March 24, 2016. (Xinhua/Rao Aimin)
BOAO, Hainan, March 24 -- Chinese Premier Li Keqiang on Thursday called for efforts to bring negotiations for the Regional Comprehensive Economic Partnership (RCEP) to a close this year.
Speaking at the opening of the annual conference of the Boao Forum for Asia (BFA) here in China's southernmost island province of Hainan, Li said countries in the region are faced with weak external economies and imbalanced development and called for concerted efforts to boost integrated regional development.
Li said RCEP is the largest regional trade agreement with the most participating members.
He said China stands ready to link the Belt and Road initiative with the development plans of countries in Asia and regional organizations.
China is willing to provide partners in the region with high quality equipment and production lines at good prices to boost their capacity in industries such as infrastructure and industrial equipment.
The Chinese premier said the Asian Infrastructure Investment Bank and the Silk Road Fund should give priority to serving the financing needs of developing Asian countries in connectivity projects and production capacity cooperation.
The BFA is a non-governmental and non-profit international organization founded in 2001 to promote regional economic development and cooperation.
More than 2,000 scholars, business leaders, government officials and members of civil society gathered at the annual conference this year, which runs from Tuesday to Friday with the theme "Asia's New Future: New Dynamics and New Vision."
>>> Related:
"Twin engines" to propel China's development: Premier Li
China will actively foster new growth drivers while transforming and upgrading traditional ones so that they will form "twin engines" to propel China's development, Premier Li Keqiang said on Thursday.
Premier Li calls for more innovation in Asia
Chinese Premier Li Keqiang on Thursday said Asia should take advantage of human resources to pursue an innovation-driven growth model.