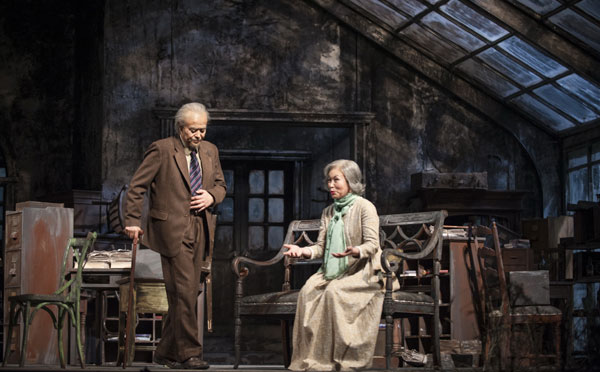 Pu Cunxi, left, and Gong Lijun perform in the Beijing's People's ArtTheater's drama, The Gin Game, at the Beijing Captial Theater. [Photo by Xiao Yang/Xinhua]
There's need for smarter theater management in China, a recent government report cautions. Wang Kaihao and Zhang Kun report in Beijing and Shanghai.
Most theaters in China aren't professionally run and don't make profits, according to a recent government report.
There were about 873 professional theaters (stage performance theaters built by governments, public institutions or enterprises and with a complete set of professional equipment) nationwide by the end of 2013. They attracted 32.3 million people to 40,500 shows in total.
But about 60 percent of them were unable to make profits. And 80 percent lacked professional management systems, the Ministry of Culture report says, adding that the number of theaters isn't enough for the country's large population.
In 2013, for instance, only 0.64 professional theaters were available to every 1 million Chinese. By comparison, the ratio in United States in 2007 was 1.8 and in Japan it was 4.4 that year.
The report also points out that geographical distribution of theaters is unbalanced: Beijing, Jiangsu, Zhejiang, Shandong, Shanghai, and Guangdong-six developed province-level administrative regions-house nearly 40 percent of the country's theaters, while western China has less than 20 percent.
"Theaters in some places crave to be exotic and large scale," the report says.
"For example, during our investigation, we found that there is no professional theater in many counties, but in some counties, the theaters are too large for the local populations," says Kang Bo, a Ministry of Culture official involved in the report.
The project, which was undertaken by the Ministry of Culture and the Ministry of Housing and Urban-Rural Development to set the national criteria for the construction of professional theaters, began in February. The criteria are to be released in 2016.
"The criteria for theaters will be more complex than other cultural institutions like libraries because most theaters are multifunctional, requiring more parameters to be considered," Kang says.
Chinese theaters made 6 billion yuan ($961 million) in 2013, but 47 percent came from government aid, and ticket sales only amounted to 36 percent.
"Many theaters are still public institutions, which makes us unable to purely consider how to make profits," says Meng Xin, deputy director of the National Center for the Performing Arts' performance department.
【1】
【2】