Costs rising amid economic restructuring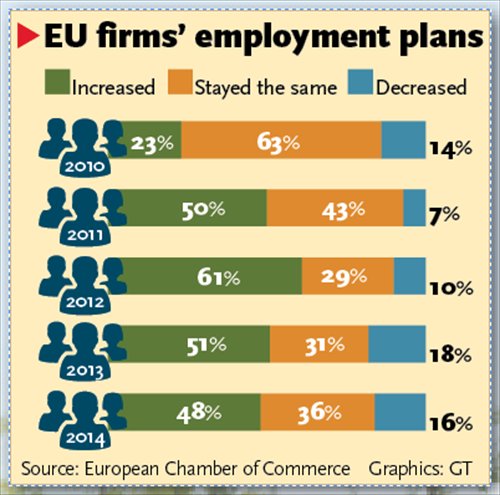 The gold rush stage for foreign firms in China has come to an end, amid rising labor costs and a tightening regulatory environment, the Wall Street Journal (WSJ) reported over the weekend, citing the fact that some foreign companies have recently been laying off workers in the world's largest market.
But some experts refuted the report, and said Sunday that China is still an important market with many opportunities for multinationals, given the country's efforts in economic restructuring and innovation.
The rise of land, labor, and environmental protection costs in China do not fully justify the pullback by multinational companies, and in many cases the layoffs reflect these companies' own internal problems, Xue Jiongwen, president of Beijing-based ACG Consulting, told the Global Times Sunday.
A combination of factors, including slower growth, weak global demand and a feeling that the country has singled out foreign businesses for regulatory crackdowns, is pushing an increasing number of companies to slash their workforces in China, the WSJ reported on Friday.
The number of European firms operating in China that have layoff plans rose to 16 percent in 2014 from 10 percent two years ago, the WSJ report said, citing a survey released in May by the European Chamber of Commerce in China.
The survey also mentioned that 24 percent of the European chamber's member companies plan to cut costs this year, up from 22 percent in 2013.
"The golden era for companies in China is indeed over in terms of very cheap labor, but it does not mean that prospects are dimming for investment in this country," Bai Ming, a research fellow at the Chinese Academy of International Trade and Economic Cooperation, told the Global Times on Sunday.
Given China's ambition to restructure its economy and move up the value chain, the advantage of its low labor costs will not persist for a long time, and those companies that focus on labor-intensive industries with low added value will inevitably be compelled to move to countries and regions where labor costs are lower, Bai said.
Sportswear brands like Nike and adidas have reportedly moved their production bases out of China to Southeastern Asian nations including Vietnam, Cambodia and India in recent years in order to cut costs.
Many foreign companies have cut their number of employees in China because they see the country as their production center, so when global demand is weaker they trim costs by laying off workers locally, Bai said.
Even though low-cost labor is no longer China's biggest strength for attracting foreign businesses, the country still has an advantage in this regard compared with European and American markets.
Improving the quality of products and services, as well as creating stronger research and development capabilities and well-developed logistics are giving China a competitive advantage against its Asian neighbors too, according to Bai.
According to media reports in June, online consumer electronics retailer Best Buy Co was reportedly considering selling its Chinese business because of sluggish sales, despite the success of local rivals such as Alibaba Group, jd.com and Suning.
Japanese consumer electronics juggernaut Sony Corporation is mulling a possible withdrawal from China, Beijing-based Legal Daily newspaper reported on October 15 citing an insider, though the Japanese firm later denied the report.
Globally, Sony is cutting its number of staff and selling some of its businesses and assets. It also got de-listed from the London stock market in August. In China, the company is losing its innovation and price advantages amid intense competition from local players such as Xiaomi and LeTV, according to media reports.
Layoffs seen recently in China at IBM, Microsoft's Nokia unit and Adobe are part of global job cuts as these firms are suffering from problems outside China, and protests by Chinese employees have often made headlines.
Some multinationals are also fleeing from China because they see the business environment as less friendly, given recent anti-corruption and antitrust probes, the WSJ reported.
Since 2013, China has launched a series of anti-graft and anti-monopoly investigations against multinationals including British drug producer GlaxoSmithKline, as well as US-based mobile phone chip maker Qualcomm and software giant Microsoft.
China's antitrust efforts are aimed at making a level playing field for all companies, Xue said, remarking that some foreign firms are upset because they used to receive preferential treatment.