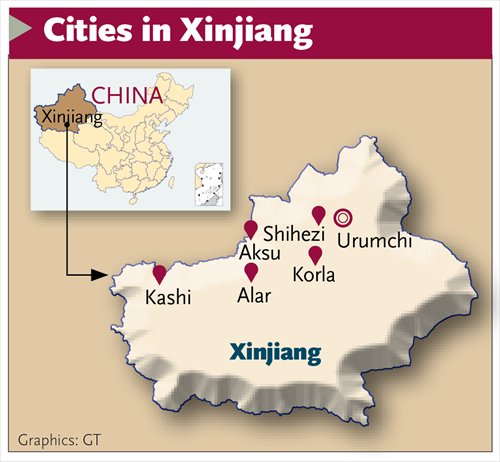 Two women work in Xinjiang Ruisheng Textile Co's workshop on June 24. (Photo: Chen Yang/GT)
The weather was sunny and hot in late June, but it was perfect for cotton growing in regiment farms on the outskirts of Shihezi, a city in the northern part of the Xinjiang Uyghur Autonomous Region.
"A heavy snow and windstorms hit northern Xinjiang in April, affecting the growth of cotton. Many regiment farms had to re-sow cotton seeds, which might reduce the cotton output for this year," Chen Lin, deputy general manager of Xinjiang Tianye Co, told the Global Times.
Xinjiang, with less than 40 percent of China's cotton-growing area, produces more than half of the country's cotton. The Xinjiang Production and Construction Corps (XPCC), which has 175 regiment farms, is the largest cotton grower in the region, accounting for 42 percent of the region's output in 2013.
High production costs
In addition to Xinjiang's natural environmental advantages, the secret of the region's high cotton yields also lies in a water-saving drip irrigation system.
As Xinjiang lacks enough water resources, XPCC's farms have all adopted Tianye's water-saving irrigation system.
"The cost for installing our system is 200 yuan ($32.2) per mu (0.067 hectares), just one-tenth of the price of a similar system in Israel," Chen said.
With the drip irrigation technology, the cotton's output of the XPCC has been raised to 160 kilograms per mu, almost double the previous level, while the level in other cotton-growing provinces is around 100 kilograms per mu, according to Chen.
However, XPCC's cotton production cost is nearly three times that of farmers in the US, mainly due to high labor costs, Galaxy Futures said in a research note published on June 25.
In 2013, nearly 60 percent of cotton grew by XPCC was harvested using machinery. But the futures firm said the corps' production efficiency is still lower than that of the US farmers, who utilize full mechanization from planting to harvest.
Every fall, temporary workers from Henan, Hubei, Sichuan and Gansu provinces take trains to Xinjiang, picking cotton for two months and earning around 6,000 yuan per month, media reports said.
XPCC's rate of return on cotton growing is also five times that of the US, mainly due to its high yields, Galaxy Futures said.
Lessening the price gap
Relying on its abundant cotton output, Shihezi has become a major textile production base in Xinjiang.
In the workshop of Xinjiang Ruisheng Textile Co, located in the city's economic and technological development zone, cotton packaged into stacks were piled up neatly, and on the other side, textile machines were spiraling fast.
But the cotton the factory uses is not all purchased locally, as the factory also buys imports from the US and Australia. "Last year we got a one-ton import quota when we bought three tons of State reserves, but this year we need to buy four tons of domestic cotton for one ton of imported cotton," Xu Yongzhi, head of the textile mill, told the Global Times.
The demand for imported cotton results from its cheaper price.
"The price of imported cotton was 5,000 yuan per ton cheaper than domestically produced cotton last year, and now the price gap has lessened to 2,000 yuan per ton," Xu said.
The price gap of cotton at home and abroad has forced China to implement a stockpile scheme in the past three years to protect the interest of domestic cotton farmers. But this year, it plans to replace the stockpile with a subsidy for cotton growers in Xinjiang. The National Development and Reform Commission set the target cotton price for this year at 19,800 yuan per ton, so when the market price is lower than the target price, farmers will be subsidized.
Analysts believe the move will bring down domestic cotton prices, which is good news for local textile mills.
"The price for the newly harvested cotton will be around 16,000 yuan per ton given falling prices of cotton futures," Sun Liwu, an analyst with commodity consultancy Sublime China Information, told the Global Times on Wednesday. "The country is likely to subsidize farmers based on planting areas and output."
【1】
【2】