Beijing, Tianjin, Hebei offer 144-hour visa-free transit
07:36, December 29, 2017 Xinhua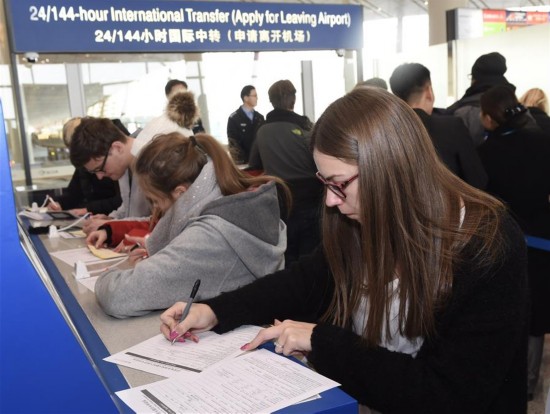 Passengers go through the procedure of 24/144-hour International Transfer at the Terminal 3 at Beijing Capital International Airport in Beijing, capital of China, Dec. 28, 2017. China on Thursday extended its visa-free period for people transitting through Beijing to 144 hours, and added neighboring Hebei Province and Tianjin City to the program. Transit air, train, and ship passengers entering either of the six border ports in Beijing, Tianjin and Hebei can stay in the region for six days before heading for another destination, according to Beijing's Port Office. (Xinhua/Luo Xiaoguang)
BEIJING, Dec. 28 (Xinhua) -- China extended its visa-free period for people transitting through Beijing to 144 hours Thursday, and added neighboring Hebei Province and Tianjin City to the program.
Transit air, train, and ship passengers entering either of the six border ports in Beijing, Tianjin and Hebei can stay in the region for six days before heading for another destination, according to Beijing's Port Office. A valid travel document and a connecting ticket are required.
People from the 53 nationalities that previously benefited from Beijing's 72-hour visa-free transit policy are eligible for the new policy.
Beijing offered 72-hour visa-free transit from 2013. In 2016, the border office logged more than 26,000 such visits, up 32 percent from a year earlier.
Beijing Vice Mayor Cheng Hong welcomed the first foreigners exempted from visas at the Beijing Capital International Airport.
Cheng said the visa-free period was extended after about 40 percent of the foreign guests enjoying the previous transit policy said time was too short.
"We open rail and land ports for the first time and allow passengers to visit more places (Tianjian and Hebei)," she said. "The policy is expected to boost Beijing's economic and cultural exchanges with the world and is good to the city's image."
Beijing-Tianjin-Hebei is the second region in China where transit passengers can stay up to six days. In January 2016, Shanghai and neighboring provinces of Zhejiang and Jiangsu began offering the visa-free service.
【1】
【2】
【3】
【4】