Over 32,000 trees planted in Xiongan
15:54, December 04, 2017 Chinadaily.com.cn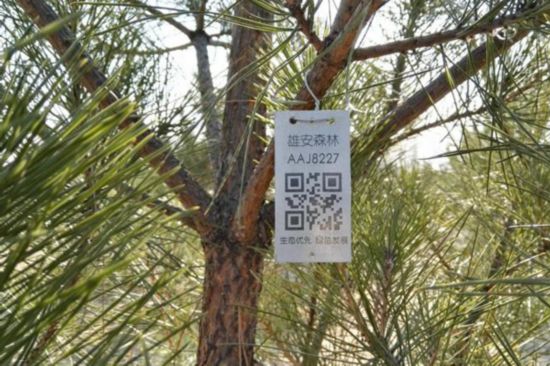 Each tree planted in Xiongan New Area has a QR code. [Photo provided to chinadaily.com.cn]
More than 32,000 trees have been planted in Xiongan New Area of Hebei province since the area launched a program last week to increase its woodland coverage rate, according to China Xiongan Construction &Investment Group.
By the spring of 2018, trees under the program will cover up to 7 square kilometer and the area's ultimate goal is to plant more than 600 sq km of trees, the company said.
The woodland coverage rate in Xiongan will surpass 40 percent by 2030, more than double the national average, Liu Baoling, executive deputy director of the area's administrative committee, earlier said.
Liu added the aim is to build a livable new area, with plant life, forests and water being the main elements.
To manage the trees effectively, a big data system was established to collect each tree's information and follow their growth.
Based on the system, each of the trees will have a QR code, which when scanned will provide all the information, including its species, place of origin, planting location and growth.
The trees will not be in strict lines or rows, to ensure that the forest is closer to natural state.
According to plans for Xiongan announced since its establishment in April, the new area will be a green and livable modern urban area with more than 70 percent of the area to be covered by water and trees.
【1】
【2】
【3】