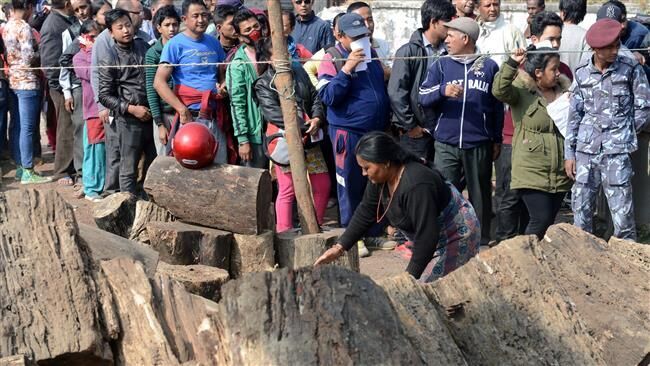 A photo shows people in Nepal are queuing to buy woods as fuel. [Photo: huanqiu.com]
The Nepalese government has issued a formal request for Chinese help with its current energy crisis.
Nepal's Foreign Minister has made the request as part of a meeting with Chinese Foreign Minister Wang Yi in Beijing.
"Both sides are looking at ways to step up long-term oil and gas trade. We're also going to start looking at ways we can help Nepal though its current energy shortage on a medium and long-term approach."
Nepalese Foreign Minister Kamal Thapa says his side wants to work with China on a longer-term basis.
"I'm very happy to note that the government of China has instructed the concerned petroleum export authority to be in touch and discuss issues related with the long-term trade of petroleum products with Nepal."
Protesters in Nepal have been blocking trucks from coming in from India over the past 3-months in protest of the country's new constitution.
This has led to acute shortages of both fuel and medicine.
The Nepalese government has accused New Delhi of siding with the protesters, a charge India denies.
In moving to help the Nepalese government, Chinese Foreign Minister Wang Yi says the move should not be viewed as Chinese competition with India.
"To maintain stability and to realize development in Nepal is certainly in line with the interests of both China and India. So in other words, Nepal is absolutely capable of being a platform for mutual trust and cooperation between China and India, rather than being a sports field for competition."
At the same time, both the Nepalese and Chinese Foreign Ministers say they've also agreed to speed up post-earthquake reconstruction projects.
Nepal was hammered by a pair of massive earthquakes earlier this year which left thousands dead and homeless.