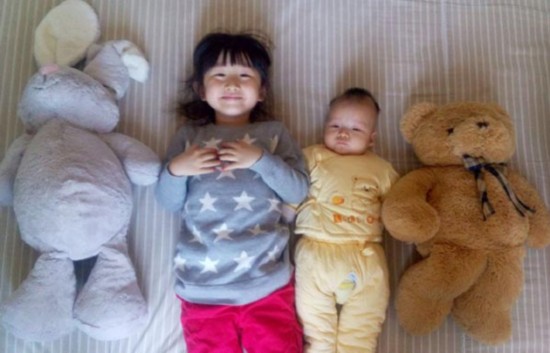 Li Shuchun, 4, and his 7-month-old brother Li Shuhan, live in Beijing with their parents who are among the 1.07 million out of 11 million eligible couples applied to have a second child by the end of last year. [Photo by Wang Nina/Provided to chinadaily.com.cn]
While many Chinese expect that a universal two-child policy will come soon, some experts have called for more aggressive steps to address the nation's population challenges, which include a declining labor force and a rapidly aging population.
Mu Guangzong, a demographics expert at Peking University, said immediate measures are needed to fuel population growth.
These should include nursing subsidies for couples having more than one child, longer maternity leave for parents and easier access to education and health services, he said.
"Financial incentives should be given to boost reproduction and make childbearing easier," Mu said.
"Two children are good, and three are even better," he said. Given that population development is a gradual process that requires a shift in people's perceptions about reproduction, a carefully considered plan should be implemented as soon as possible, Mu said.
Yuan Xin, a population scientist at Nankai University in Tianjin, estimated that a universal two-child policy would make nearly 100 million Chinese couples eligible to have a second child.
Along with such a policy, China also needs measures to encourage reproduction and nursing so that the policy might be translated into action, he said.
Yuan called the situation urgent, but added that he expected a universal two-child policy would bring many more newborns, because it would make more rural people eligible to have a second child.
China has one of the world's lowest fertility rates, at less than 1.5, which is the number of children on average that women give birth to during their lifetime. A minimum of 2.1 is required to replace the population, experts say.
Despite its huge population, the country has seen a dwindling number of people who are of working age.
Last year, China recorded 916 million people aged 16 to 59, the group deemed eligible for the workforce, which was roughly 66 percent of the entire population, according to the National Health and Family Planning Commission. That percentage peaked at 74.5 percent in 2010, and has been falling ever since.
According to the National Bureau of Statistics, the population of the Chinese mainland stood at 1.37 billion at the end of last year.
The latest relaxation of the one-child rule, which came in late 2013, has failed to bring as many newborns as expected, noted Mu, the Peking University demographics expert.
By the end of last year, less than 10 percent of the 11 million eligible couples applied to have a second child, according to official statistics.