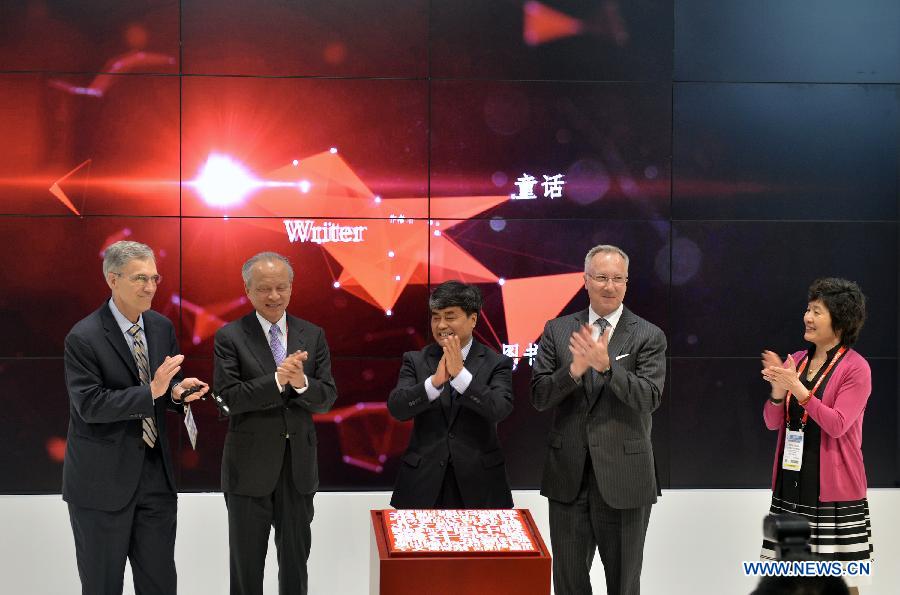 Guests from China and U.S. attend the opening ceremony of China-Guest of Honor 2015 BookExpo America's Global Market Forum in New York, the United States, on May 27, 2015. Bringing in nearly 10,000 book titles from some 150 publishers, China came under the spotlight in this "publishing and cultural capital of the world" as BookExpo America (BEA) 2015 kicked off in New York City's Javits Center Wednesday. (Xinhua/Wang Lei)
by Xinhua Writer Wang Fan
NEW YORK, May 27 (Xinhua) -- The BookExpo America (BEA), the largest U.S. book fair, carries special significance for China and the world at large.
The BEA kicked off in New York on Wednesday with a strong presence of China and dynamic cultural exchanges among publishing professionals around the world.
For a starter, it is only the third time, after 2009 in Frankfurt and 2012 in London, that China has become the guest of honor at a top-notch book trade fair held in major Western countries.
Meanwhile, the event chalked up an achievement for the Chinese publishing industry.
As the largest exchange between publishing professionals of the two countries since China and the United States established diplomatic ties in 1979, the book fair illustrates a bigger footprint of China's publishing industry in the global market and higher acceptance of Chinese publications among Western readers.
For the U.S. side, the presence of some 150 Chinese publishers with nearly 10,000 book titles offers an unprecedented opportunity for readers beyond China to get acquainted with the real image of the world's second largest economy, which enjoys a long history and a splendid culture.
The China Pavilion, covering an area of some 2,300 square meters, presents an eclectic collection of Chinese publications, offering foreign attendants a special chance to get an objective and comprehensive perspective into the current political, economic and cultural landscape of China.
"Books are an important source of original materials for people who are interested in China to know the nation's perspective on current world affairs and to understand its stance," an exhibitor told Xinhua.
The BEA this year comes after the Chinese publishing industry scored an impressive performance in 2014, with some 198,000 new books published and a record high of 1.3 million titles sold, according to official data.
As Chinese participants said, the event offers an opportunity for publishers beyond China to foster cooperation with their Chinese counterparts, a perfect case of win-win scenario.
American publishers apparently noticed the benefits they could garner from the cooperation.
"American publishers welcome our Chinese counterparts to BookExpo America," said Tom Allen, president and CEO of the Association of American Publishers. "We look forward to professional conversations that can deepen mutual understanding of publishing in our respective countries and expand opportunities for new business ventures."
Besides business potentials, the three-day fair, which includes education sessions and off-site cultural events, also undoubtedly serves as an important platform for China and the United States, the world's top two publishing markets, to widen and deepen their cultural ties.
As their 36-year-old diplomatic ties have proved, the key to maintaining a strong momentum in bilateral relations lies in the amity between their peoples based on mutual understanding.
As Dr. Henry Kissinger, a former U.S. secretary of state, said in a congratulatory letter for the event, the exchange of books has been "an important contributing element" to the development of U.S.-China relations as well as the "extraordinary interaction" between the two countries.