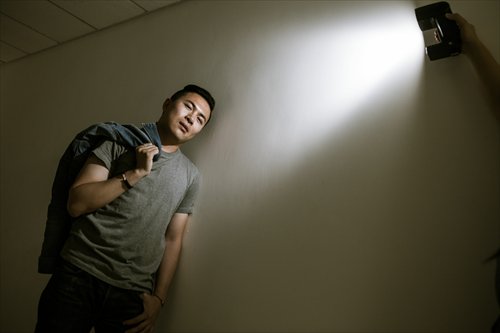 Women are finding men who seem aloof and disinterested all the more charming. Photo: Li Hao/GT
When Cathy Chen, a 25-year-old who works at a media agency in Beijing, first met her boyfriend last April, she was immediately swept off her feet, not only because she thought he was handsome, but also because he was "cool, silent and aloof."
"He doesn't speak much, which made him seem more secretive to me, and also, more macho," Chen said. "He didn't contact me much at the beginning, which only made me want to date him more. He kept a certain distance between us, which helped lure us into getting to know each other more because of the secretiveness."
Chen's taste in the "cool guy" is spreading among women in China, especially since the release of two hit movies My Sunshine(2015) and The Left Ear(2015). The male protagonists in these films were labeled "cool guys" because they did not take initiative in their relationships and kept their distance from other people. The movies took in 349 million yuan ($56.3 million) and 482 million yuan respectively.
After the movies were released, Chinese Net users came up with the word lengnanto describe men with an introverted and aloof, yet tough character. Lengnan has since become a hot topic on Sina Weibo, where nearly 1,000 Net users have expressed their admiration toward lengnan-style stars, such as South Korean actor Kim Soo-hyun, who played in the TV series My Love From The Star(2013). An online forum called Lengnan on China's biggest search engine Baidu has more than 2,700 members and more than 93,000 posts.
The craze for lengnancomes after another male infatuation trend in China. Last July, women began looking for their "sunshine boy," a label that refers to a man who is sweet, understanding and really caring in a relationship, after famous Chinese actress Zhou Xun said her husband, actor Archie Kao, waited for her with a giant towel when she had to shoot a film in the rain.
"My boyfriend isn't considerate, gentle and talkative like 'sunshine boys,' but he has so much testosterone and is so manly," Chen said. "He is very independent, and he is a man of principle. That's what a real man should be like, not some sissy man who clings on to me everyday."
"Sure, sometimes I get upset because he is not romantic and doesn't do sweet talk, but I know I can't have it all," Chen added.
Sun Hao, a relationship counselor based in Beijing, said she thinks the reason why Chinese women have started to turn their attention toward lengnanis because Chinese women are no longer blindly craving for "fatherly care" from their partner and are pursuing an equal relationship where they can remain an individual.
Yang Bingyang, a columnist and author of several relationship books, said that as Chinese women achieve greater economic independence, they have greater freedom in choosing their romantic partners. "It's in our genes that women like macho guys who are strong and can hunt and do manual labor like our ancestors did," Yang said.
"Besides, when a person behaves coldly in relationships, it often adds value to the person because he or she is not that needy," Yang added. "And if a guy is cold to you or most people, I doubt he would be very enthusiastic to other women, so that means he is more loyal to you."