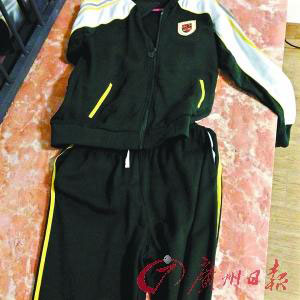 The photo, published on April 25, 2015, shows two pieces included in a uniform set for students at the Gongguan Foreign Language School in Guangdong province that costs 2180 yuan, or about $352. [Photo: Guangzhou Daily]
A high school in Dongguan, South China's Guangdong province, is under fire for asking students to pay 2180 yuan($352 USD), for uniforms, the Guanzhou Daily reported on Sunday.
A popular Weibo account, named "Dongguan Student Club," published the post on Saturday, revealing that the Gongguan Foreign Language School is charging 2180 yuan for its new set of uniforms, which consists of 18 pieces, from summer shorts and short sleeved shirts to winter coat and sweater.
One student, who spoke on the condition of anonymity, said most of the students are complaining that the price is too high; what's more, the school did not inform students and parents about the price hike before the uniforms were sent out.
Another student from a different school said their 14-piece uniform set costs just 900 yuan. A faculty member from Gongguan Foreign Language School explained that the price of the uniforms was based on a bidding launched by Dongguan's education bureau and the uniform quality is much better than before.
The Gongguan education bureau responded via their Weibo one day later, saying they have organized members from the school's parent commission and some parent representatives to visit the uniform manufacturer's site. They have reached a consensus on the price and decide how many pieces they need.
It was revealed in the Chinese media that the president of Hainan Xiuying Vocational School in Hainan province received six yuan for every piece of uniform sold, while directors and teachers got three yuan and one yuan per uniform sold, respectively.
Some netizens are asking whether or not employees of the Gongguan Foreign Language School are profiting from the uniform price hikes.