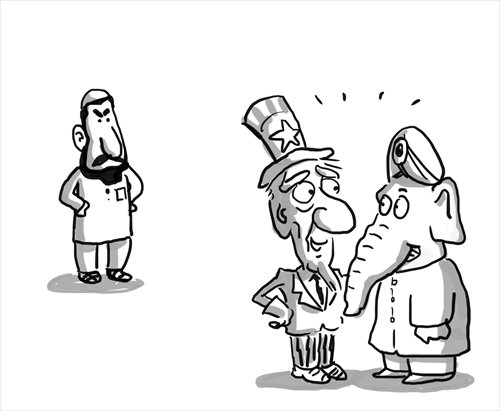 Illustration: Liu Rui/GT
US President Barack Obama's visit to India made a media splash. But analysis of Obama's visit suggests that the bilateral cooperation offered by the US to India could have implications for the whole of South Asia. The US offered India four main things: an Indo-US nuclear deal coupled with a waiver on tracing nuclear material, support for India's entry into the Nuclear Suppliers Group (NSG), support for India's permanent membership on the UN Security Council, and economic incentives.
But is India ready for such responsibilities? The history of India's relations with its immediate neighbors has seen it in conflict with all of its neighboring states, including border disputes with both of its nuclear-armed neighbors. The regional organization SAARC has not been able to participate in the development of the region because India has adopted a hegemonic instead of a cooperative approach. With all these problems, how can India be the permanent member of the UN Security Council?
The tracking waiver will provide India with an advantage in using the nuclear materials it purchases from international markets to make more nuclear bombs, the precise opposite of what tracking is supposed to accomplish. It is irresponsible of the US to offer something like that to India, bypassing all the rules and regulations of the International Atomic Energy Agency.
And it is ironic to see Obama supporting India for NSG membership. This depicts a classic case of realism in international relations, since the NSG was established in 1974 primarily to prevent India from getting nuclear materials. The US, with its offer, also threw the Treaty on the Non-Proliferation of Nuclear Weapons into the Indian Ocean.
However, US efforts to provide India favors that upset the region's strategic equation are a matter of concern of everyone.
The US needs to understand that the bilateral ties between India and Pakistan are not on a track toward peace. Despite several efforts by Pakistan to promote peace and stability in its relations with India, New Delhi does not seem interested; rather the message from India is a hawkish one.
Islamabad wishes to maintain friendly ties with New Delhi. Prime Minister Nawaz Sharif took the initiative in this regard by attending the swearing-in ceremony for new Indian Prime Minister Narendra Modi. It was hoped that India would reciprocate with a gesture of goodwill, but this unfortunately never happened. This was followed by confrontation along the Line of Control in Kashmir, since when the situation has deteriorated.
Therefore, to ensure South Asia's strategic stability, it is imperative that the US adopt a balanced approach and avoid giving India undue favors. South Asia is different from other parts of the world in that it is home to two nuclear-armed neighbors who have a history of confrontation and an ongoing border dispute. The US is empowering one of the disputants without doing anything to remove the bilateral irritants.
The US is empowering India so that it can have a strong partner in South Asia and the Asia-Pacific to watch over its interests. It wants India to play a major post-US role in Afghanistan.
But the fact remains that any "minus-Pakistan" solution will never be successful in bringing peace and stability in Afghanistan. The US is ignoring the fact that India does not share values with Afghanistan as Pakistan does, including geographic contiguity, culture, religion, history and ethnicity.
A strong country with a positive attitude is a pleasant development for the region. But India's unfortunate hegemonic attitude is bad news for both South Asia and the Asia-Pacific. There is the real possibility that India will start picking fights with its neighbors. UN Security Council membership would empower it in that course and might create irritants for Pakistan.
Sharif's adviser on foreign affairs Sartaj Aziz has said that Pakistan supports a reformed UN Security Council that corresponds to the positions and collective interests of all member states, not just a few. Hence, India needs to build the confidence of its neighboring states and behave more responsibly. The US also needs to realize that it should give India some time to settle its issues in its region before it is given such responsibilities as UN Security Council and NSG membership.
The author is a researcher at the Islamabad Policy Research Institute. [email protected]