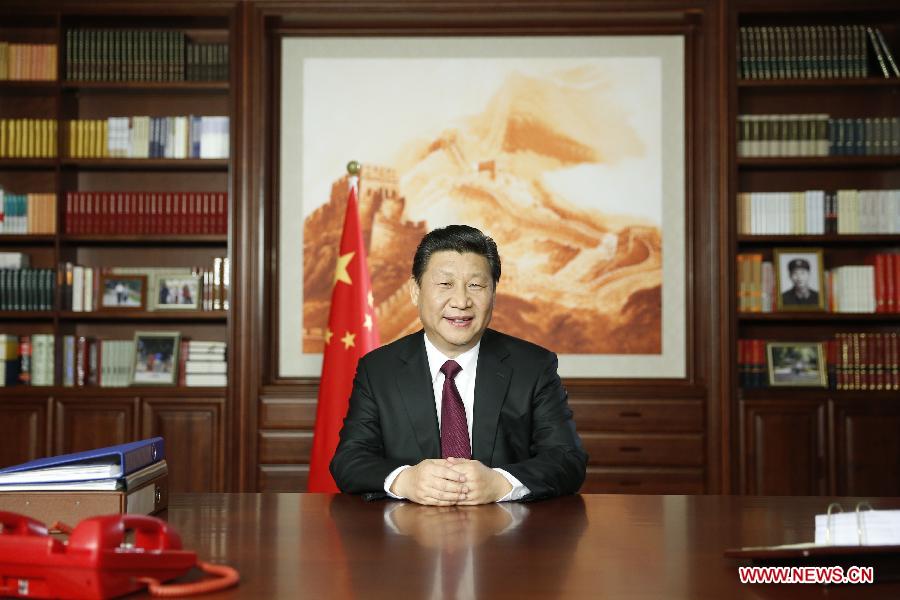 Chinese President Xi Jinping delivers his New Year speech via state broadcasters, in Beijing, capital of China, Dec. 31, 2014. (Xinhua/Ju Peng)
BEIJING, Dec. 31 -- Chinese President Xi Jinping underscored the need to continue reform and to advance the rule of law in 2015 in his New Year speech on Wednesday, comparing them to "a bird's two wings".
In an address transmitted live by state broadcasters, the president told domestic and overseas audiences that 2014 was an "unforgettable" year.
"In 2014, we pressed ahead with reform, cracked many hard nuts and introduced important reforms close to the interests of our citizens.
"We adapted to the new normal of economic growth; actively promoted economic and social development; and improved the quality of people's life," he said.
Xi said cadres at all levels had "given it their best shot", a popular phrase with Chinese Internet users. "Of course, without the support of the people, we could not have achieved anything. I must give our great people a thumbs-up."
In 2015, China will continue reform from which "there is no turning back" and advance the rule of law to protect the people's rights and interests, guarantee social justice and promote national development. Reform and rule of law must be advanced at the same time to achieve an "all-round well-off society" by 2020 as scheduled, he said.
The President expects to see stricter Communist Party of China (CPC) rules and better working practices in the new year, "waving high the sword against corruption" and "fastening the cage of regulations".
"In a socialist country under the CPC leadership, once identified, every corrupt official will be dealt with severely," Xi said.
Though the quality of people's lives is generally improving, the authorities should always bear in mind people with difficulties. Poverty alleviation and securing a basic standard of living for all will "ensure lives of the needy, both rural and urban, are guaranteed and their hearts are full of warmth."
All members of the Party and people of all ethnic groups should pool their wisdom to solve problems and innovate, bringing greater development for the nation and better lives for the people year by year.
EVENTFUL YEAR
Xi extended his New Year wishes to Chinese people of all ethnic groups, compatriots in Hong Kong and Macao, compatriots in Taiwan and overseas Chinese, as well as friends from other countries and regions.
He expressed his respect for the 400,000-plus people resettled to make way for the South-to-North water diversion project. The project's middle route started sending water to the north on Dec. 12. "They made sacrifices for the project, and we should show our respect to them and wish them happy lives in their new homes."
The "mass line" campaign and the fight against corruption had brought "huge improvements", he said.
Recalling cooperation and exchange with other countries in 2014, Xi cited the APEC economic leaders' meeting in November, foreign visits made by Chinese leaders and the huge number of visits to China by foreign leaders. "These activities let the world better understand China," he said.
"For those who have offered their precious lives for the country, the Chinese nationality and peace, we will forever remember their sacrifice and contribution, no matter how times change," he said. In 2014, Sept. 3 was declared "Victory Day of the Chinese People's War of Resistance Against Japanese Aggression" and Sept. 30 became Martyrs' Day. Dec. 13 was designated National Memorial Day for Victims of the Nanjing Massacre. High-profile activities were held across the country on these three days.
"This year, we also experienced some sad moments. More than 150 Chinese nationals aboard flight MH370 went missing. We haven't forgotten them, and we will continue to try every way to find them," said Xi.
Xi also recalled natural disasters and safety accidents, including the Ludian earthquake that killed more than 600 people. "We miss them, and hope their relatives are safe and sound," Xi said.
Chinese people are concerned about the future of the world at large. China has given aid to African countries affected by Ebola and helped the Maldives when its capital was short of water, the President said.
"We call for peace, and I sincerely hope that, through the efforts of people from all countries, all people will be protected from hunger and cold; all families will be free of the threat of war; and all children will grow up under the sunshine of peace," Xi concluded.