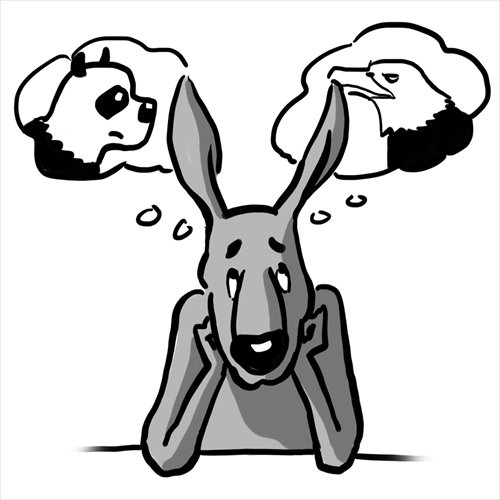 Illustration: Liu Rui/GT
Like every country in the Asia-Pacific region, Australia today is trying to work out how to balance its relations with the region's two giants, the US and China. But this is harder for Australia than for other countries, because no country depends more on China economically than Australia, and yet no country is more closely allied with the US strategically and politically.
Quite simply, Australia depends on China for its prosperity and on the US for its security. Both relationships are therefore vital to its future. Australians cannot imagine having to choose between them. However, the more the US and China see one another as rivals, the more pressure both countries seem to put on Australia to make such choices.
That pressure will grow over in coming days, because both US President Barack Obama and Chinese President Xi Jinpingare visiting Australia for the annual G20 Leader's Summit in Brisbane. Both leaders will, however, have much more than the G20 agenda on their minds while they are visiting Australia.
Australians will give Xi a very warm welcome, especially as it seems likely that a bilateral free trade agreement (FTA) is set to be concluded between Australia and China. China is already Australia's most important trading partner. Its exports to China are double those to its second-largest export market, Japan, and have been growing by an astonishing 30 percent annually in recent years. A successful FTA would increase these opportunities even further.
At the same time, Australia's government under Prime Minister Tony Abbott has gone even further than his predecessors in endorsing Obama's "pivot to Asia," and supporting US efforts to resist the creation of a new regional order in which China would wield more influence.
Abbott has also very strongly supported Prime Minister Shinzo Abe's plans for Japan to emerge as a more normal strategic power in Asia. He has warmly encouraged the development of closer defense links between Australia and Japan. Late last year, he even referred to Japan as a "strong ally" of Australia.
Recently Australia showed its willingness to align itself with the US and Japan against China when it decided not to accept China's invitation to join the new Asian Infrastructure Investment Bank (AIIB). It was reported that Canberra had decided to accept the invitation, but changed its position after Abbott was lobbied directly by both Obama and Abe. They reportedly expressed concerns that the AIIB would undermine US leadership in Asia by enhancing China's role and influence.
Abbott obviously hopes that these policies will not harm Australia's vital economic relations with China. So far he seems to have been right, as trade has grown strongly and negotiations for the FTA have proceeded swiftly.
However Abbott seems to underestimate how serious the underlying strategic rivalry between the US and China has become. At the time of the Sunnylands summit in June last year, for example, Obama was still willing to embrace Xi's concept of a "new type of great power relationship." Now it is clear that he no longer does.
On the contrary, US policymakers and analysts seem finally to be coming to understand that the US and China have fundamentally opposed visions for their future roles in Asia. Washington wants to perpetuate indefinitely the old order in Asia based on sole US leadership, while Beijing wants to build a new regional order based on the new type of great power relations, in which China would take a larger leadership role.
Australians have never encountered an Asian country that can compete with Western strategic power the way China can do today, and will increasingly do in future. They do not know what to expect. They have got used to China as a leading economic power, but not yet as a political and strategic power in Asia.
This is what makes Xi's visit, and especially his scheduled speech to Australia's Parliament, so important. It offers him an opportunity to explain to Australians what exactly he means when he speaks of a "new type of great power relations." He could describe the role he sees China playing in Asia in coming decades. He could explain the leadership roles he sees the US and other important regional powers, including Japan, playing in coming decades.
In the same way, it will be important for Obama to use his planned speech in Brisbane to spell out a farsighted vision of the US' future role in Asia and its relations with China.
None of us in Asia can avoid the difficult task of positioning ourselves between the US and China, because none of us want to make choices that damage our relations with either of them. That is only going to be possible if the US and Chinese leaders can bridge the deep divide between their different visions of Asia's future, and reach a shared understanding of their future relationship and regional roles.
This week in Australia both leaders will have a not-to-be-missed chance to start doing that.
The author is professor of strategic studies at the Australian National University in Canberra. [email protected]